TRITON 660 AVA
Entertainment-focussed underwater experiences

The TRITON 660 AVA series employs our revolutionary Advanced Versatile Acrylics to create the world's first submersibles with a free-form acrylic pressure hull.
These singular, expansive spaces afford you considerable flexibility to curate experiences hitherto unimaginable in a submersible; from cocktails and casinos to weddings and private dining.
Within a footprint comparable to that of previous-generation dual-hulled submersibles, AVA offers a singular acrylic volume up to three times greater, parity of viewing for all guests, and a greater number of seats.
The TRITON 660 AVA is the next great leap in underwater experiences.
THE TRITON 660 FOR LEISURE
The TRITON 660 AVA represents Next-Generation thinking in terms of what a private submersible is and how owners and their guests may wish to employ them.
No longer is a submersible dive an experience entirely unto itself. With the TRITON 660 AVA, space is no longer a defining factor; how you experience the ocean is limited solely by imagination.
The patented AVA hull geometry generates a versatile sub aquatic space, with numerous interchangeable interiors entirely customizable to your specification, hobbies and lifestyle.
No artist has ever had the opportunity to draw up an easel and transfer the glorious Technicolor of a reef live onto canvas. No opportunity has existed to practice yoga, or spend hours of contemplative meditation beneath the waves. Nobody has ever hosted their 'home game' of poker, sundowner cocktails or dinner party, or held a board meeting in a submersible… until now.
With the TRITON 660 AVA all of the above, and more, are achievable with one single but remarkable Triton submersible.
How would you use your AVA?
8-guest capacity increases per-dive revenue by 33%

Proven reliable systems from existing Triton models

Extraordinary panoramic guest views, (inc. up, down and behind)

Dramatically improved pilot situational awareness

Genuine shared experience for all guests

Innovative Freeboard Extender

Integrated railing system for safe boarding/disembarkation

Direct Drive ultra-quiet thruster upgrade

Versatile platform with interchangeable interior
Dedicated aft 'impact zone' protects sensitive components during LARS

Access and simplicity of proven systems for ease of maintenance

Optional Integrated Pilot Training Simulator

Innovative ballast system increases number of dives between HP air recharges

Increased payload margin, reducing requirement for pre-dive weighting

Single component/material pressure hull with just two thru-hull penetrations, decreases sensitivity to rapid environmental changes

No proximity of transfer vessel's propeller to pressure hull
Revenue Potential Comparison
Cruise Ship Applications
The following example is provided for a typical Cruise Ship application with circa fifty diving days available, wherein high load-factors and full-day excursion schedules are achievable.
Make
Model
Utilization
Dive Days/ Annum
Dives/ Day
Pax./ Dive
Ticket Price
Revenue Comparison
TRITON
660/9 AVA
100%
50
12
8
$/€ 600
2,880,000
OTHER BRAND
Nearest Viable Model
6
6
1,080,000
Resort-based Operations
The following example is representative of resort-based operations whereby the submersible may see higher utilisation throughout the year albeit with slightly reduced load-factors representing the seasonality of the industry.
Make
Model
Utilization
Dive Days/ Annum
Dives/ Day
Pax./ Dive
Ticket Price
Revenue Comparison
TRITON
660/9 AVA
80%
240
10
8
$/€ 400
6,144,000
OTHER BRAND
Nearest Viable Model
6
6
2,764,800
Typical observed limitations of HP Air charging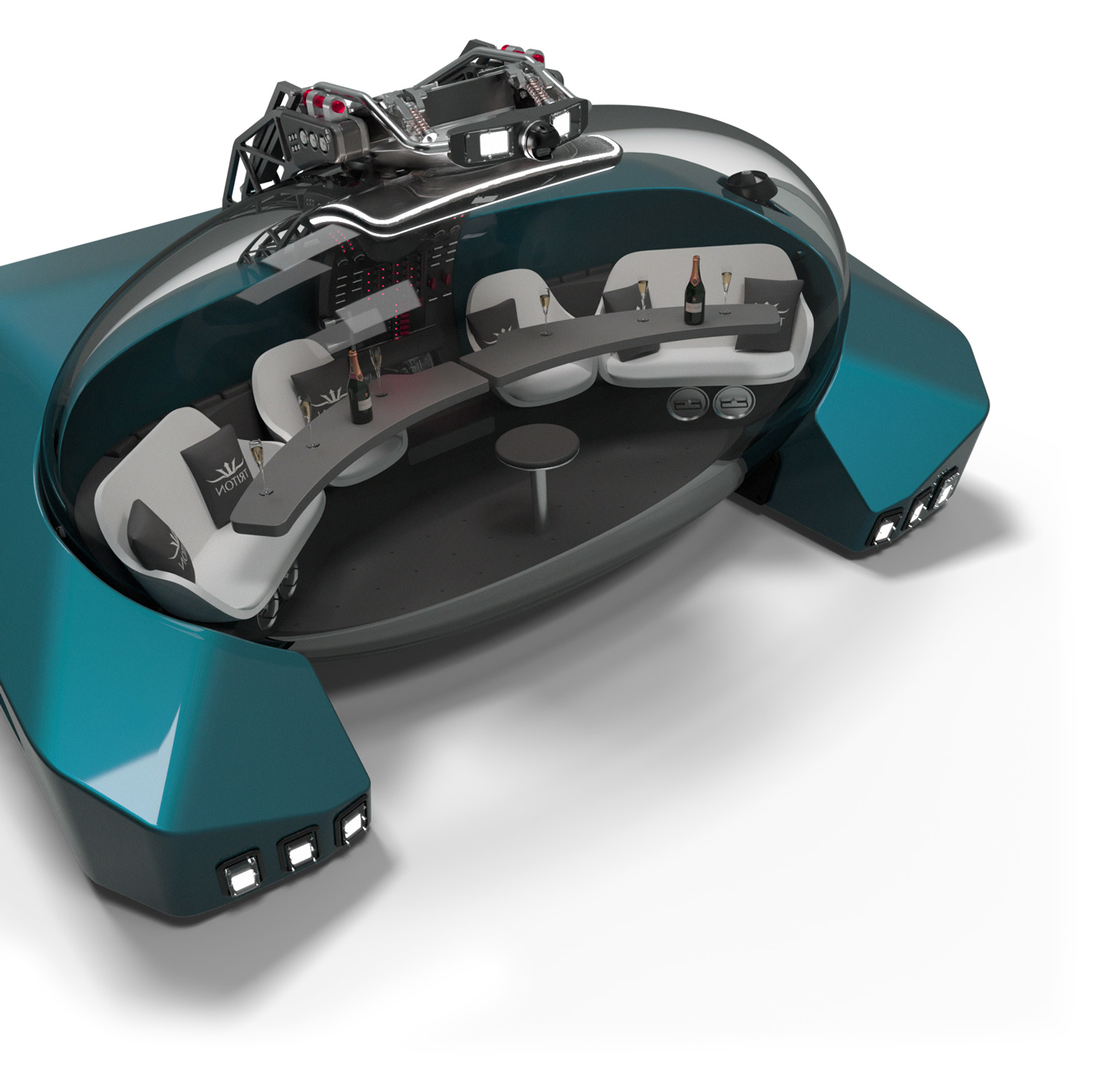 Cocktail Bar
Serve the world's deepest Gin & Tonic
Curate Unique Experiences
The beauty of TRITON 660 AVA submersibles is the flexibility afforded by their ultra-large interiors. Operators can take advantage of this space to provide never-before-possible experiences that will surprise and delight discerning guests, even when not sailing near a prime dive site.
Operators benefit from higher utilization of their submersible while guests enjoy a much richer, more fulfilling experience.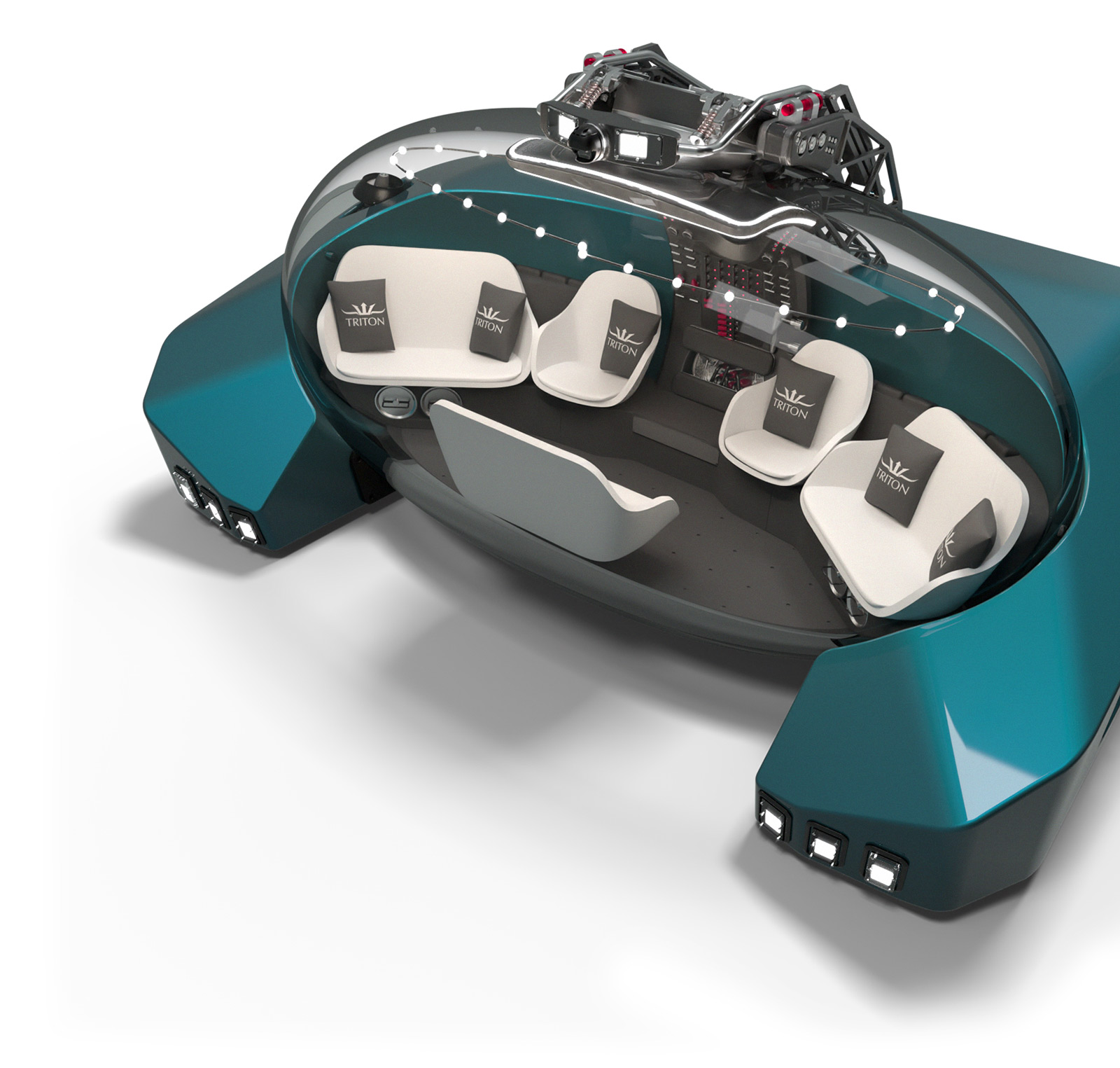 Wedding Venue
The world's most intimate place to tie the knot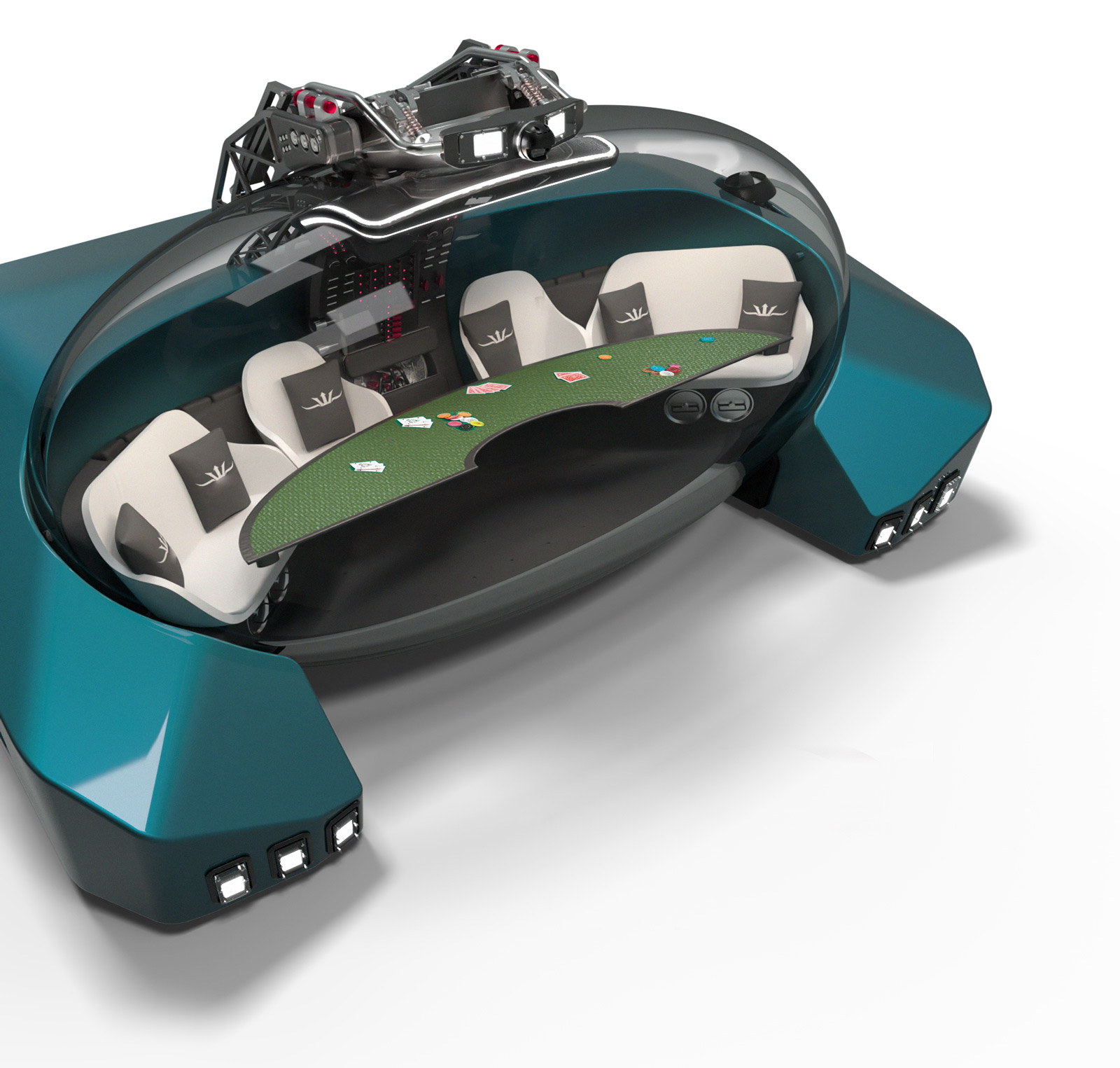 High-Rollers' Club
The world's most exclusive VIP Room
Utilize the flexible electronics system and interior mounting points to design a completely unique experience. Take advantage of the inbuilt mood lighting, surround-sound and climate control to precisely curate the perfect mood.
You may choose to offer your guests an intimate wedding ceremony among kaleidoscopic coral reefs. Perhaps you'd like to provide the ultimate Casino VIP Room for your most valued guests. Or maybe you'd like to offer an exclusive location for your guests to enjoy an evening aperitif.
Almost anything is possible with the TRITON 660 AVA. We look forward to hearing your ideas and working with you to make them a reality and a commercial success.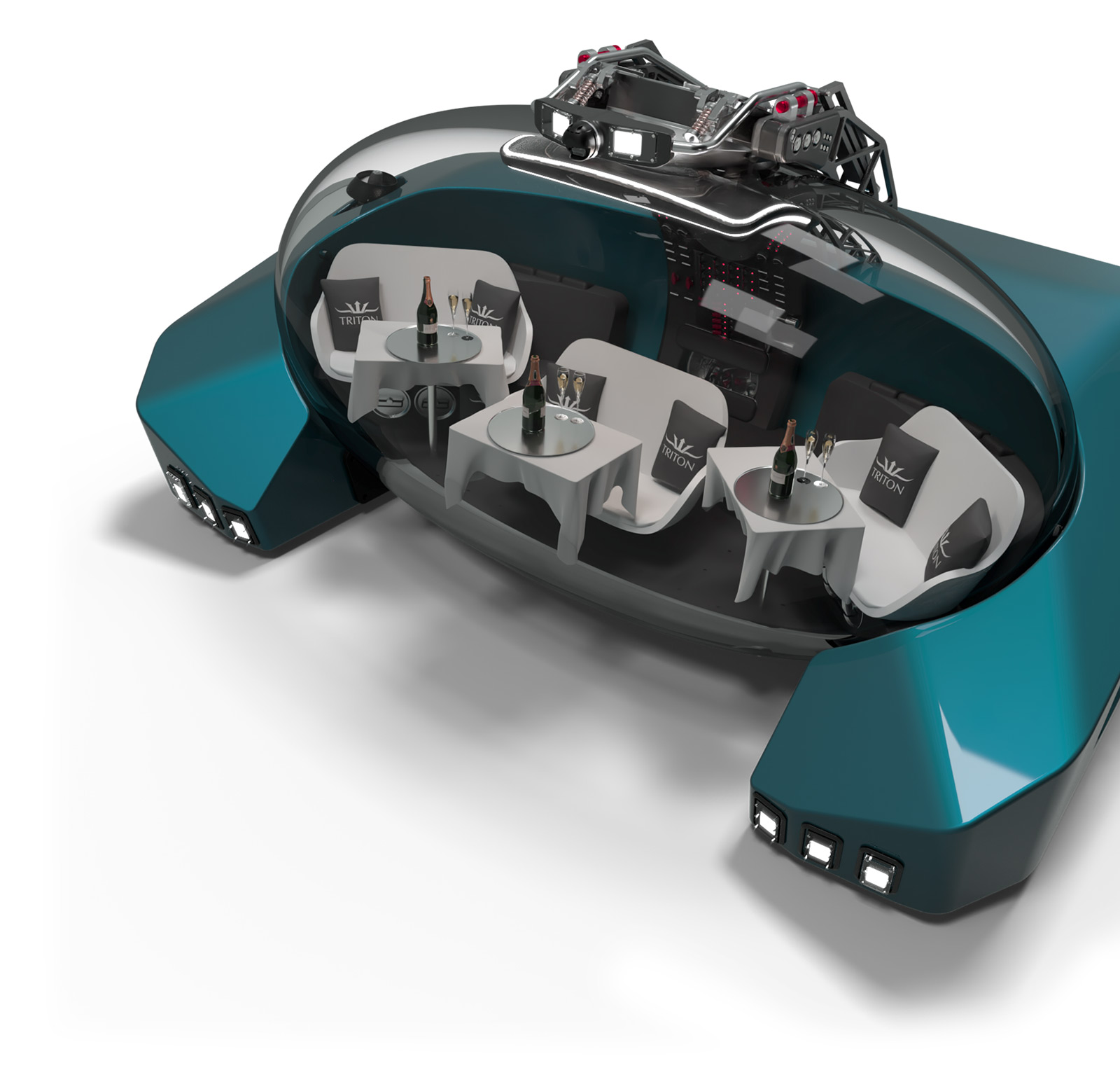 SUBSEA DINING
Fine dining with the world's finest view
"That experience is probably the most exhilarating thing I will ever do in my entire life … personal and professional."
BBC's Liz Bonnin, following her dive in the Galapagos in a Triton submersible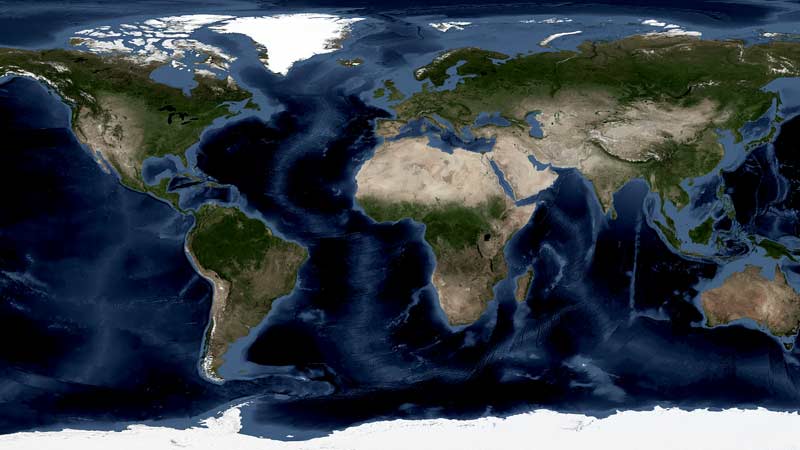 Location-Independent Experiences
No longer does a submersible depend upon a spectacular dive-site in order to provide a revenue generating, unforgettable experience.
Cruise Lines and Tour Operators can now design brand-bespoke adventures that can be delivered when operating away from world-class reefs and wrecks. These value-add excursions can help ensure that utilization of your TRITON 660 AVA is maximized throughout the entirety of a voyage.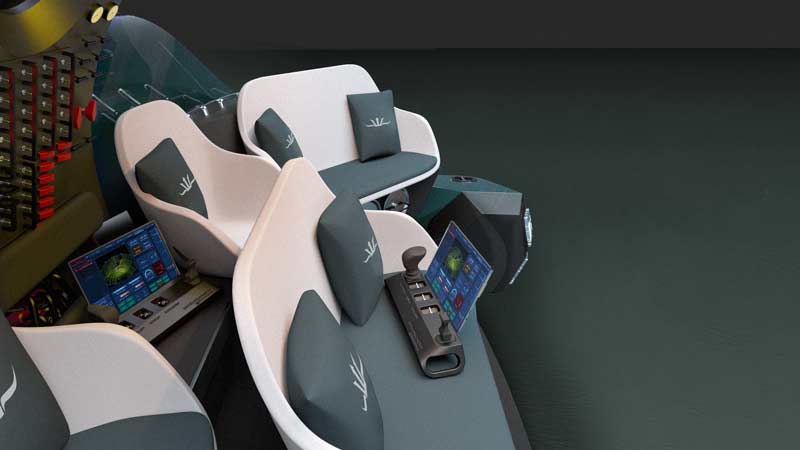 Large Interior
The patent-pending expanded-ellipse acrylic pressure hull provides markedly more space than traditional conjoined spheres.
As the shape remains relatively constant across its width, so much more of that space is realized as additional headroom, legroom and usable space. Inside a TRITON 660 AVA there is approximately three times more volume than the twin-hulled submersibles of similar size, affording you the flexibility to design a unique customer experience.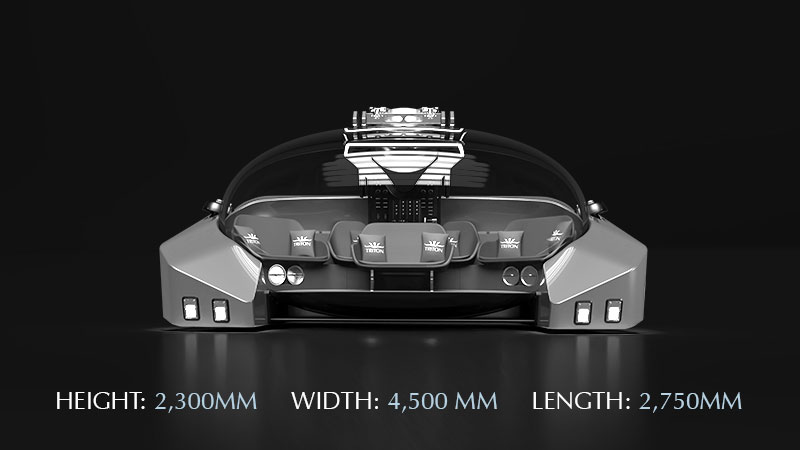 Small Footprint
The TRITON 660 AVA is designed as a direct replacement for outmoded twin-hulled tourist submersibles.
With comparable weight and similar dimensions, upgrading to the superior customer experience and mission-flexibility of the Triton is a breeze. In the majority of cases, integration with existing handling equipment is straightforward.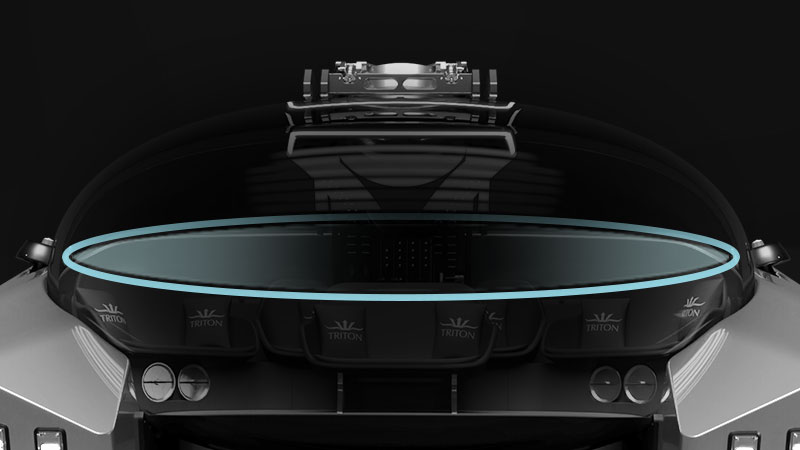 360° Pilot Situational Awareness
The TRITON 660 AVA range was conceived to address the shortcomings that operators of twin-hull submersibles experience, the most important of which being Pilot Situational Awareness.
In a Triton, the pilot enjoys a wrap-around view through the acrylic pressure hull – not through viewports in a steel link-chamber – affording them line-of-sight for all manoeuvers. Triton's Halo Cockpit places the information Pilots require for safe maneuvering unobtrusively within pilot eye-line, augmenting their already best-in-class view.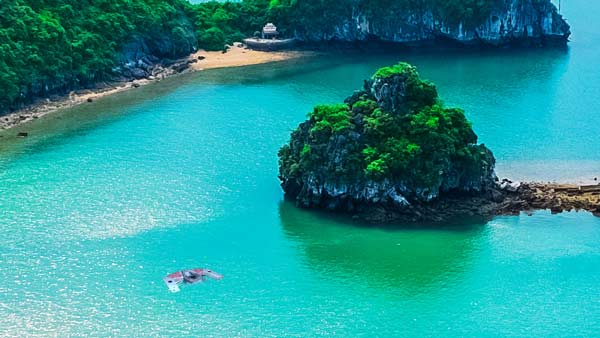 Dependability
Every Triton spends more time in the water and less time in maintenance.
It was built by the same people who built the world's only Unlimited Depth submersible. When it comes to extreme levels of reliability, dependability, durability and redundancy, we, quite literally, wrote the book. Your Triton will spend more time in the water precisely because it has been engineered by a team who understand the fundamental importance of these factors better than anyone.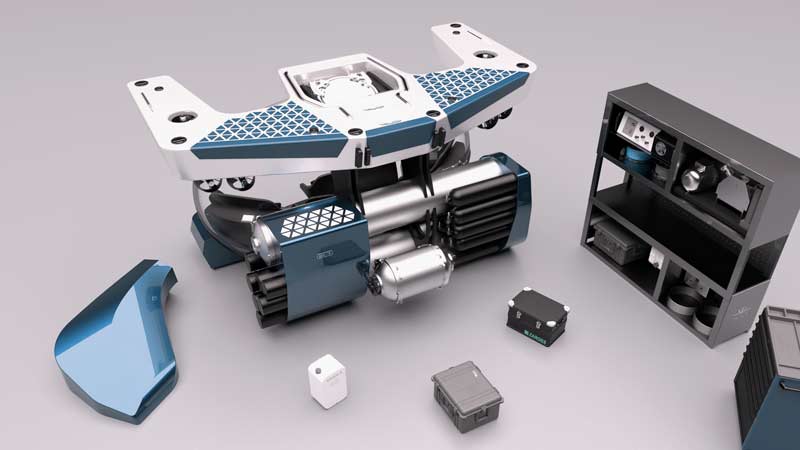 Maintainability
Our submersibles are designed such that scheduled maintenance, rolling repairs and configurations changes can all be made at sea, without the requirement to return to port.
The maintenance-bays are elegantly arranged with clear and easy access to all major components. Using standard tools and elemental sea-faring engineers' skills, a Triton can be back in the water much quicker than those of other manufacturers.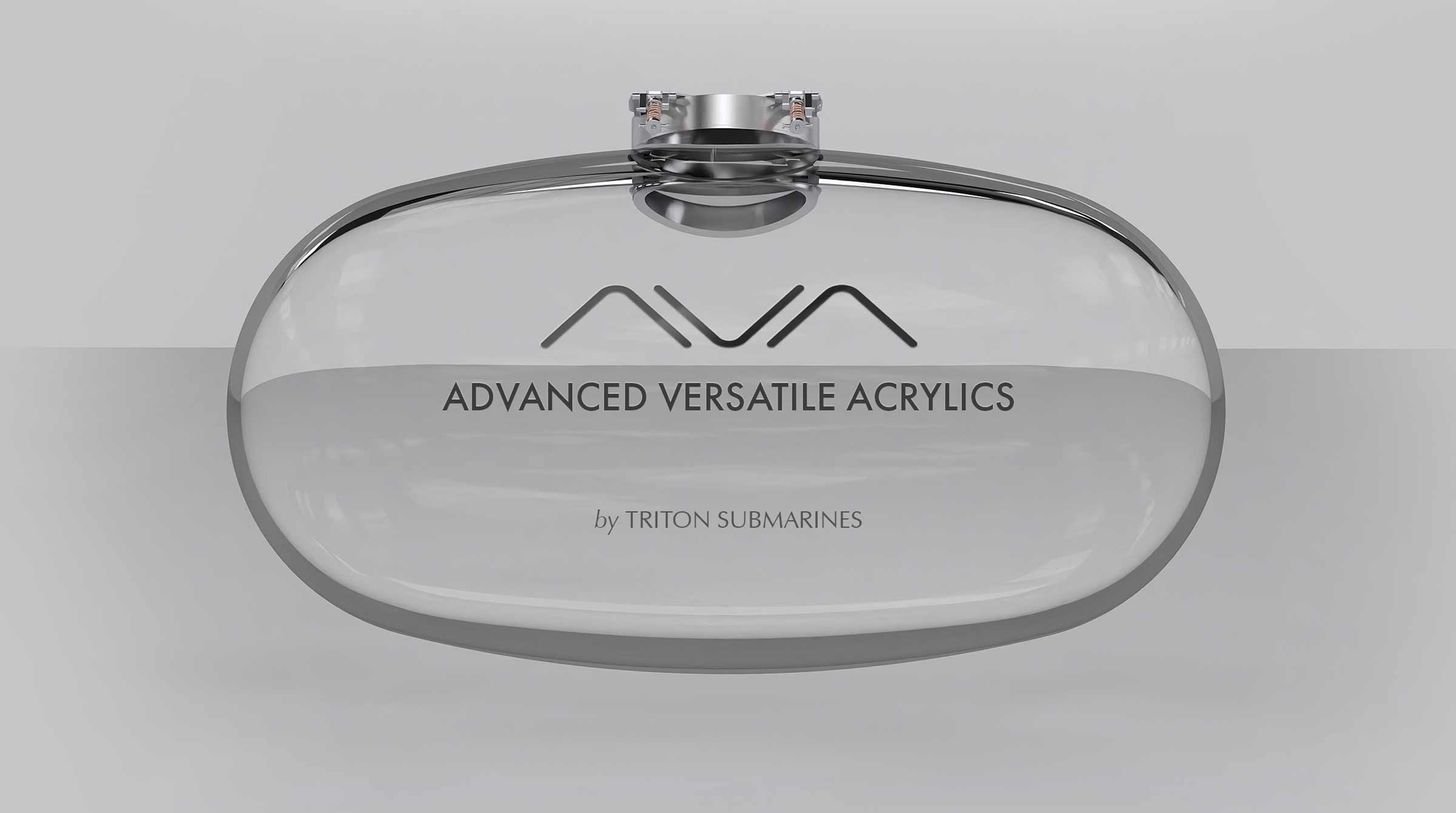 The Next Revolution in Submersible Design
The patent-pending Advanced Versatile Acrylics, for the first time, make possible transparent hulls in new and irregular geometries. In doing so, they unlock the vast volume lost to the continual radius of a sphere. In a given footprint, a Triton AVA submersible typically offer two to three times the usable volume of traditional spherical hulls. Space that can be used to create amazing experiences…
INCREDIBLE VOLUME, SMALL FOOTPRINT
Our first submersible built with AVA technology is the TRITON 660. In a footprint similar to that of two stored jet skis, it boasts a viewing-volume of roughly three-times the size of similarly sized, spherical-hulled submersibles.
SLIMLINE MACHINERY SPACE
All of the submersible's machinery has been cleverly and discretely packaged behind and below the passenger space. It remains easy to access and yet is completely removed from passenger lines of sight in all directions.
CABIN ENVIRONMENT
The discretely packaged machinery provides all of the functions that make the submersible a comfortable place to spend many hours subsea. Air conditioning, humidity controls, gas management and extensible electrical systems provide the foundation for the experience you design for your guests.
TRITON HALO COCKPIT
Triton's Halo Cockpit is a giant step forward in Pilot ergonomics and situational awareness. Often-used controls and displays are strategically positioned above and around the pilot, affording them direct sight-lines across 360º without a reliance on monitors or viewports.
Interior Atmosphere
Triton's HALO Cockpit provides many of the functions required to turn a space into a venue. It includes integrated lighting, a high-fidelity surround sound audio system, discrete air-conditioning outlets; all so you can design the perfect atmosphere for your planned experiences.
Configurable Lighting
From subtle hues to dynamic displays, the interior lighting set allows infinite customization. Set the mood for a party with preset patterns, or dim to a warm glow for dining – the choice is yours.
Design your Interior
With the fundamentals of a fine, luxury submersible covered, it's time for you to plan how you'll use the generous interior space. This image shows how up to 11 adults and children may be accommodated in the TRITON 660. From wedding venue to cocktail bar, the possibilities are endless.
WOW YOUR CLIENTS
The TRITON 660 AVA is the only submersible with the layout, space and careful design to allow you to create unique experiences tailored specifically to your target audience. The only limit is your imagination.
OUR NEW SUBMERSIBLE. YOUR NEW EXPERIENCE.
We built the TRITON 660 AVA so you could build incredible underwater experiences. It has been designed for maximum flexibility so that your offering can change and evolve over time.
We look forward to working with you to create truly one-of-a-kind experiences for your guests.
Hammerhead Controller
Triton's new and improved Hammerhead Controller makes its debut on the TRITON 660 AVA. Working in tandem with the Halo Cockpit, the Hammerhead allows the submersible to be controlled wirelessly from any seat inside the cabin. Thus, the pilot may move around the submersible to help point out objects of interest, or may hand control of the submersible to a guest.
Hammerhead features Triton's latest-generation User Interface that offers at-a-glance access to critical safety and control information, elegantly enriched with subtle detail that further enhances pilot situational awareness.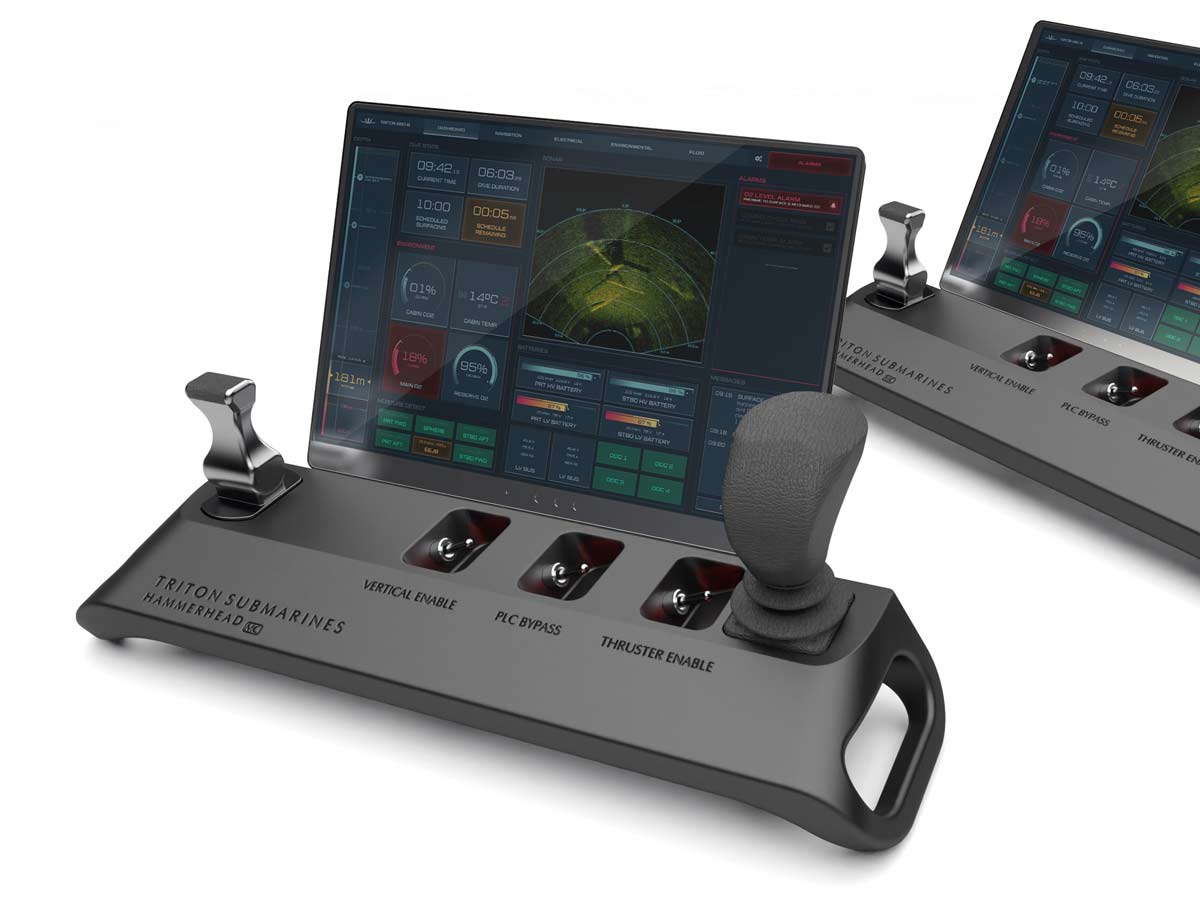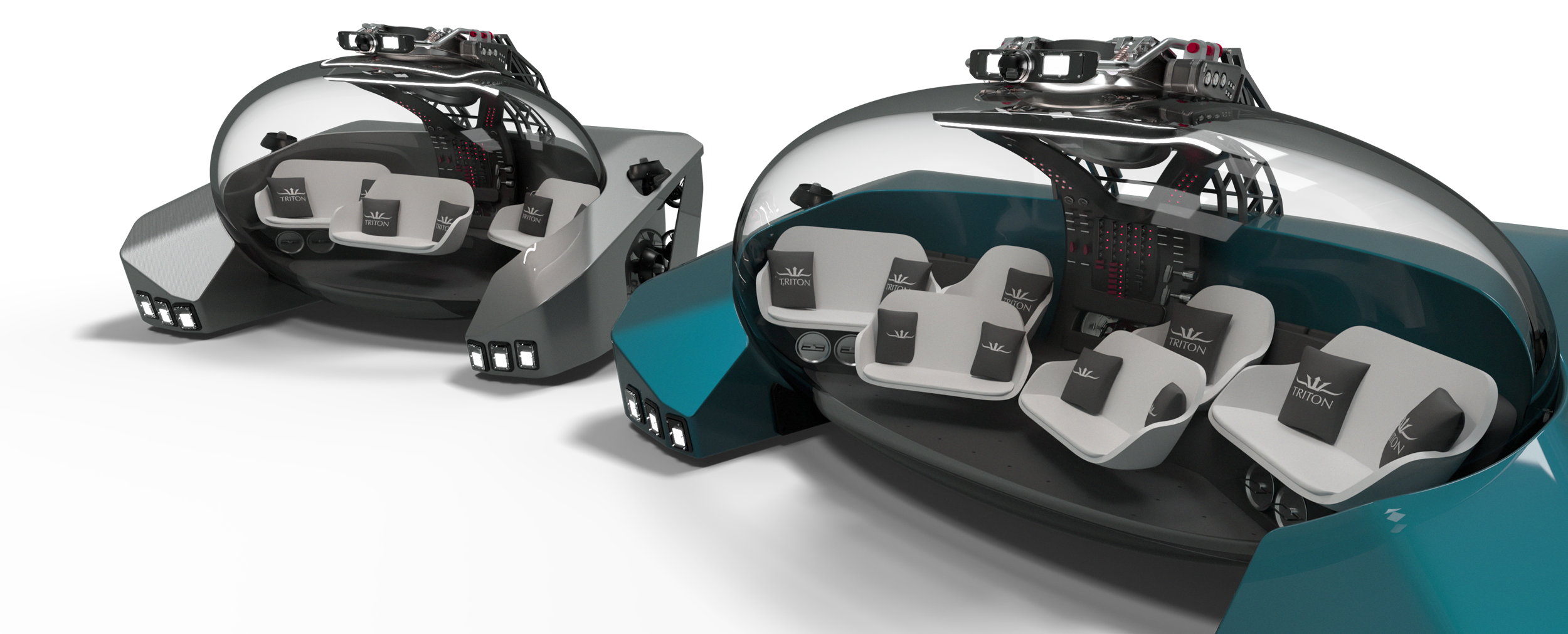 Technical Specification
TRITON 660/9 AVA – Nine Seat
General
Depth
656 ft / 200 m
Crew
1 Pilot
Passengers
8 Adults or
6 Adults + 4 Children
Speed
3 kn
Endurance
12 hours
Hatch Inner ⌀
23.6 in / 600 mm
Size & Weight
| | |
| --- | --- |
| Length | 9.02 ft / 2.75 m |
| Width | 14.8 ft / 4.5 m |
| Height | 7.55 ft / 2.3 m |
| Weight | 24,250 lb / 11,000 kg |
| Dynamic Passenger Compensation Ballast | 550 lb / 250 kg |
| Variable Ballast | 550 lb / 250 kg |
| Pressure Hull Internal Volume | 6,300 l |
Systems
| | |
| --- | --- |
| 24 V Supply | Dual supply + Emergency |
| Main Battery | 57 kWh |
| Main Thrusters | 4 x 5.5 kW |
| Maneuvering Thrusters | 4 x 5.5 kW |
| Control | Joystick, Touchscreen & Manual Override |
| External Lights | 8+ x 20,000 lumen LED |
| Life Support | Oxygen + CO2 Scrubber |