TRITON 36000/2
FULL OCEAN DEPTH
The world's first and only submersible certified "Depth: Unlimited"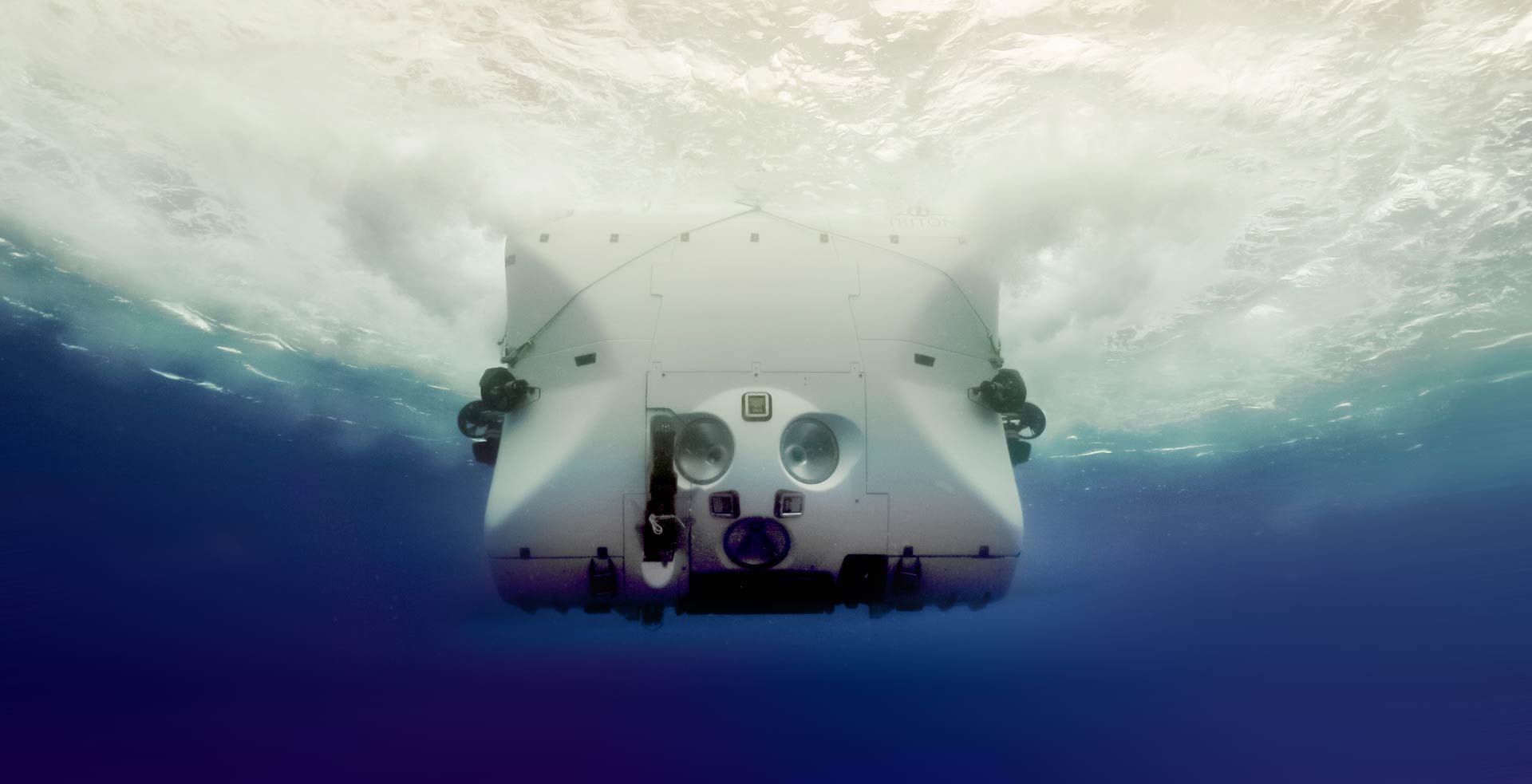 The TRITON 36000/2 is the world's first and only manned submersible that is certified to full ocean depth. It opens up to repeatable exploration the 70% of the world's oceans hitherto beyond the reach of mankind.
Equipped with a full science suite and ultra-high definition filming capabilities, the TRITON 36000/2 is helping scientists and explorers uncover the mysteries of the most unexplored region on Earth – the ultra-deep.
Reliable and repeatable exploration to full ocean depth affords scientists the opportunity to compare rich data-sets spanning the full gradients of depth, temperature, salinity and other factors.
In 2019, Victor Vescovo became the first person to reach the deepest point in all five oceans using his TRITON 36000/2. The ground-breaking Five Deeps Expedition provided the ultimate validation, and final certification, for the world's only Full Ocean Depth submersible.
"POSSIBLY THE MOST IMPRESSIVE TOOL FOR HUMAN EXPLORATION AND SCIENTIFIC ENDEAVOUR SINCE APOLLO 11"
Rob McCallum, EYOS Expeditions

The Drive
In order to protect our oceans, we must first understand them. We cannot begin to understand our oceans through observation of the relative shallows alone.
The key to understanding their global impact lies in the gathering, interrogation and interpretation of quality, scientific data.
Previous Dives
Only two manned submersibles have previously dived to Challenger Deep – the deepest point on earth. Both vessels have since been retired having performed a single full ocean depth dive each.
The challenge presented to Triton was to build a craft that would match these fore-bearers for depth, but be able to repeat the dive hundreds, if not thousands, of times.
Utility
Such a vessel must serve a meaningful purpose; to exist not simply to set records, but to further human understanding through serious scientific research and to inspire a passion for our oceans.
Previous vessels were designed with passenger comfort as a secondary consideration to the engineering which made it possible. Such a Triton must be comfortable on long missions, offer economic operation and carry multiple passengers to share the experience, and workload.
Certification
As one of our founding principles – and a feature of every Triton we have ever built – we would not compromise on having our design and build scrutinised by a third-party Classification Society. No other full ocean depth submersible has ever been certified.
The challenge to create the ultimate, reusable, full ocean depth, certified, meaningful science platform is one only Triton Submarines could achieve.
Making of the Limiting Factor
Enjoy the incredible story of how the world's mast advanced submersible was designed, developed and tested.
ENGINEERED TO THE EXTREME
The TRITON 36000/2 is an engineering tour de force.

It is designed for absolute reliability and dependability in the world's most extreme environment.
Dive Depth
11,000 M
36,000 ft
Pressure Test
14,000 M
45,931 ft
Crew Compartment Hull Thickness
90 mm / 3.54 in
Titanium Alloy
In-air Weight
12,500 kg
27,558 lbs
Capacity
2 PERSONS
Pilot + 1
Endurance
16 Hours
+ 96hrs Emergency Life Support
Dive Depth
11,000 M
36,000 ft
In-air Weight
12,500 kg
27,558 lbs
Pressure Test
14,000 M
45,931 ft
Capacity
2 PERSONS
Pilot + 1
Crew Compartment Hull Thickness
90 mm / 3.54 in
Titanium Alloy
Endurance
96 Hours
+ 106hrs Emergency Life Support
KEY FEATURES
Titanium Pressure Hull
The defining feature of Limiting Factor is the 90mm thick pressure hull. Having been machined to within 99.933% of true spherical form, it is testament to the precision engineering required to develop a certified, resuable, full ocean depth submersible.
Precision Manufacturing
The TRITON 36000/2 has been manufactured to tolerances no other submersible can match. In many cases we needed to re-think our technologies and invent completely new manufacturing processes.
The Titanium pressure hull, for example, is machined to within 99.933% perfect circularity – the most precise titanium sphere ever developed.
Absolute Quality Control
The absolute performance of every component, quality controlled beyond anything before it, made the TRITON 36000/2 possible. For many components, just a single supplier had been able to demonstrate their capability of producing parts to the quality and tolerances required.
The TRITON 36000/2 is truly built of the best, by the best.
Self-Rescuing
The TRITON 36000/2 is designed to return to the surface no matter the scenario. This meant designing and engineering multiple, fully-redundant systems that can be relied upon absolutely. This dedication to minute detail, to absolute quality, and to test after test after test, is why Triton, with the support of its exclusive partners, is the only manufacturer capable of producing such an extremely capable submersible.
Forging the world's most precise titanium sphere
We are as proud of our incredibly-precise titanium sphere as we are our premium acrylic hulls. Both have been engineered by the world's most talented fabricators, exclusively for Triton.
General
| | |
| --- | --- |
| Depth | 36,000 ft / 11,000m |
| Payload | 485 lb / 220+ kg |
| Crew | Pilot + 1 Pax |
| Speed | 3 kn |
| Endurance | 16+ hours |
| Surface Ballast | 75.93 cu.ft / 100 kg |
| Variable Ballast | 220 lb / 100 kg |
Size & Weight
| | |
| --- | --- |
| Length | 15 ft / 4.6 m |
| Width | 6.2 ft / 1.9 m |
| Height | 12.2 ft / 3.7 m |
| Weight | 25,700 lb / 11,700 kg |
| Pressure Hull Inner ⌀ | 59 in / 1,500 mm |
| Pressure Hull Thickness | 3.54 in / 90 mm |
| Hatch Inner ⌀ | 17.7 in / 450 mm |
Systems
| | |
| --- | --- |
| 24V | Dual supply + Emergency |
| Main Battery | 65 kWh |
| Main Thrusters | 4 x 5.5 kW |
| Vertical Thrusters | 4 x 5.5 kW |
| Maneuvering Thrusters | 2 x 5.5 kW |
| Control | Joystick, Touchscreen & Manual Override |
| External Lights | 10 x 20,000 lumen LED |
| Life Support | Oxygen + CO2 Scrubber |