TRITON 7500/3
The world's deepest diving three-person acrylic submersible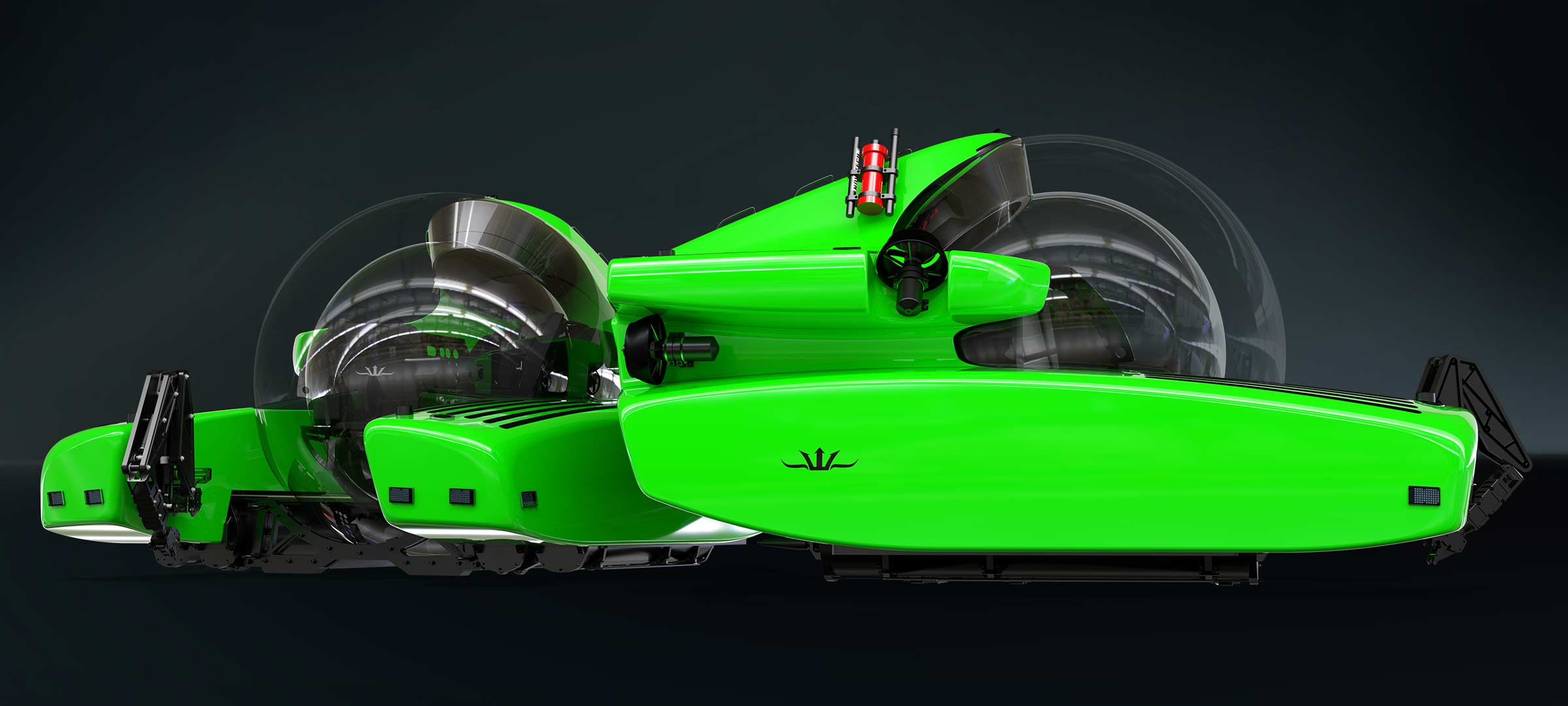 Using proprietary technology, developed in collaboration with Triton's exclusive acrylic manufacturing partners, the TRITON 7500/3 is the world's deepest diving, three-person acrylic hulled submersible.
Capable of diving over 1.4 miles to the great depths of the ocean's Bathypelagic zone, the TRITON 7500 series represents a new breed of submersible. Observation is fundamental to scientific enquiry and the fully transparent, acrylic pressure hull creates the potential for more excitement, new adventures and even greater versatility.
Featuring proprietary systems developed for and proven during record-setting operation of the Triton 36000/2, the Triton 7500/3 represents a unique opportunity to acquire a series-built submersible capable of safe, reliable and repeatable operation at extreme depth.
The versatile lift points on the TRITON 7500/3 have been configured for launch and recovery using either tender-style davits found in yacht garages, or deck-mounted crane and A-Frames.
Welcome to the Bathypelagic Zone
The TRITON 7500/3 grants scientists, researchers and explorers access to the Bathypelagic Zone.
It combines technologies developed on the record-breaking TRITON 36000/2 and marries them to one of only two acrylic hulls on Earth certified to such depths. The result is a high-performing, incredibly reliable ultra-deep diving submersible which offers wrap-around 360 degree views.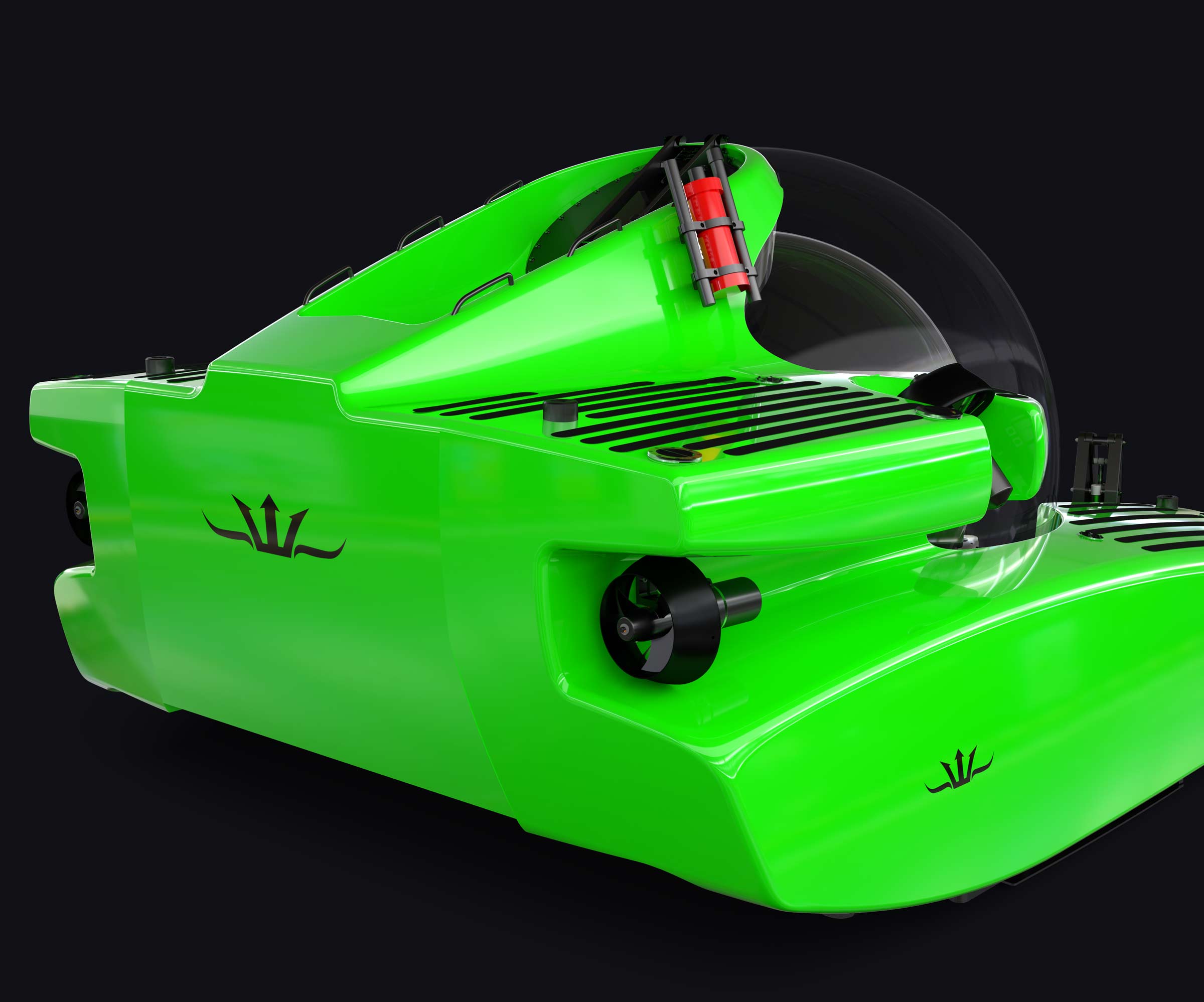 Unique Exploration
Until now manned access to depths in excess of 1,000m in the bathypelagic zone has been limited to a handful of experimental and state funded submersibles. With the TRITON 7500/3 a doorway to the deep opens, permitting marine researchers, documentary filmmakers and archeologists to pioneer exploration of wide swathes of the Earth's oceans for the very first time.
As owner of a TRITON 7500/3 opportunity exists to become the first human to undertake an uncountable diversity of unique experiences; will you be the first person in history to witness a sperm whale and giant squid locked in mortal combat in their natural habitat?
Participation & Preservation
In 2018 the world's oldest perfectly preserved shipwreck was discovered lying at a depth of 2,000m in the Black Sea off the coast of Bulgaria. Due to a lack of oxygen at those depths, the ancient Greek trading ship has lain undisturbed, with masts, rudders, cargo and rowing benches all perfectly preserved for an estimated 2,400-years.
Containing an unparalleled archive of data, which will contribute significantly to our understanding of history, this 75' vessel is just one of many archeological treasure troves accessible to the owner of a TRITON 7500/3. Providing the assets for archaeological experts and participating in the study of such wrecks is the kind of unique experience and legacy project available only to owners of TRITON 7500/3 submersibles.
LIGHTS, CAMERA, ACTION
In a zone of the ocean where the majority of occupants have evolved without ever encountering sunlight, the darkness is punctuated by marine life that create their own incredible pyrotechnic display. Employing bioluminescence to attract prey, mates and even communicate, owners of TRITON 7500/3 have the rare opportunity to witness a spellbinding light-show like no other.
Proving the platform of choice for some of the most accomplished documentary film-makers to grace the silver screen, owners of the TRITON 7500/3 can write their own page in history by documenting, sharing and providing an insight into one of the planet's last unexplored frontiers.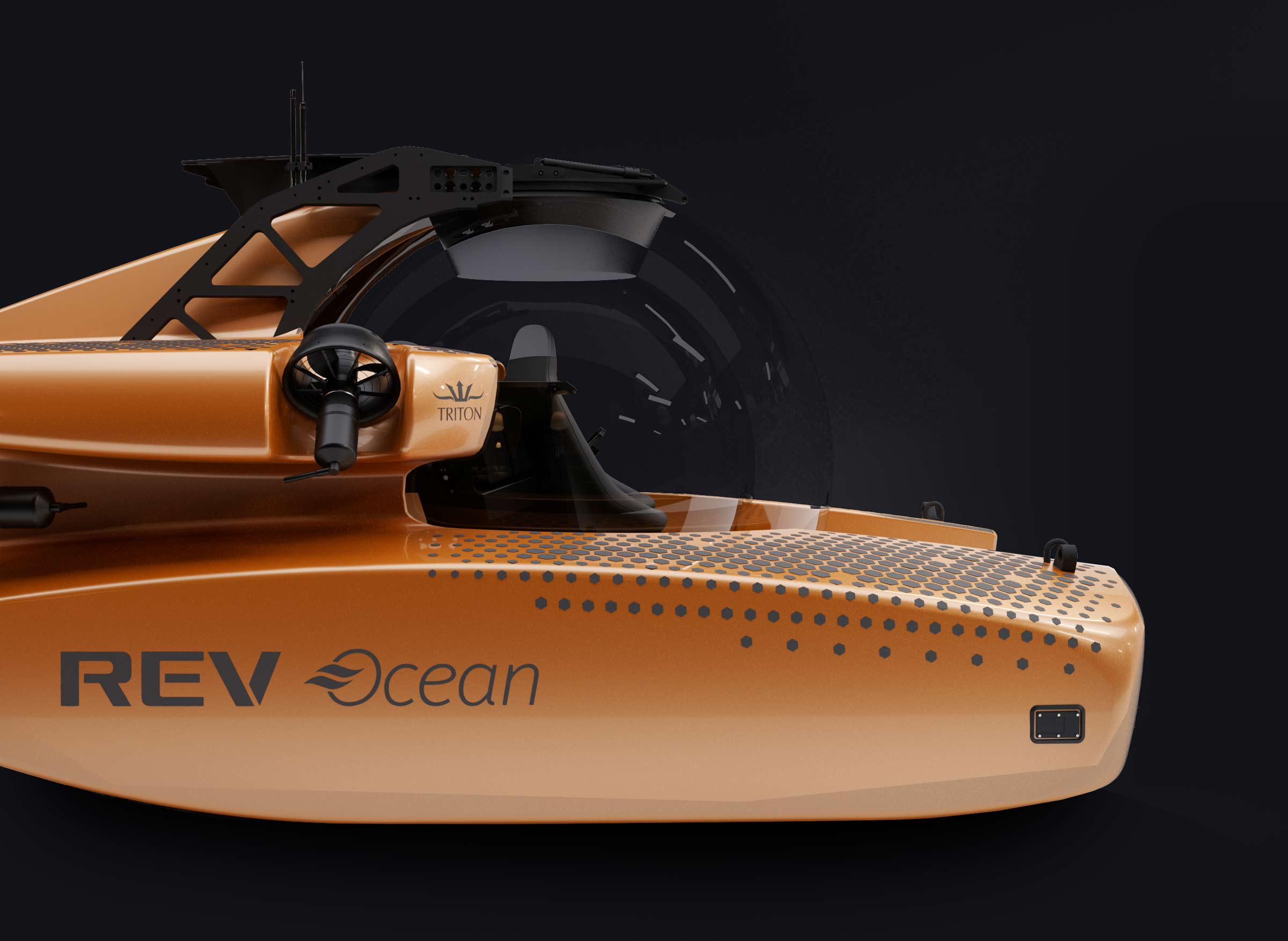 The TRITON 7500/3 is the submersible of choice for REV Ocean.
REV Ocean is a not-for-profit company created with one overarching purpose and ambition: To make the ocean healthy again. Upon delivery REV Ocean will be the world's largest and best equipped state-of-the-art research and expedition vessel afloat. The project represents total commitment by the owner to a better understanding and future custodianship of the world's oceans. Learn more about why the world's most discerning and uncompromising clients select Triton as their partners here.
Fore more information about the REV Ocean initiative,

please visit their website here.
General
| | |
| --- | --- |
| Depth | 7,500 ft / 2,286 m |
| Payload | 1,100 lb / 500 kg |
| Crew | Pilot + 2 Pax |
| Speed | 3 kn |
| Endurance | 10+ hours |
| Main Ballast | 8,800 lb / 4,000 kg |
| Variable Ballast | 397 lb / 180 kg |
Size & Weight
| | |
| --- | --- |
| Length | 15.3 ft / 4.65 m |
| Width | 11.5 ft / 3.5 m |
| Height | 8.5 ft / 2.6 m |
| Weight | 24,960 lb / 11,200 kg |
| Pressure Hull Inner ⌀ | 69.5 in / 1,766 mm |
| Pressure Hull Volume | 2,883 l |
| Hatch Inner ⌀ | 21.7 in / 550 mm |
Systems
| | |
| --- | --- |
| 24V Supply | Dual supply + Emergency |
| Main Battery | 40 kWh |
| Main Thrusters | 2 x 12.5 kW |
| Vertran Thrusters | 2 x 12.5 kW |
| Control | Joystick, Touchscreen & Manual Override |
| External Lights | 6+ x 20,000 lumen LED |
| Life Support | Oxygen + CO2 Scrubber |