Leisure Submersibles
Triton submersibles are designed and built like no other – completely devoid of compromise.
In a Triton submersible you'll feel as though you could reach out through our superior-grade acrylic and touch the wondrous world outside.
Our submersibles are roomier, more comfortable, and easier to climb in and out of. The inherent stability in their design ensures they sit flat and level for safe ingress and egress.
They are supported by the world's most experienced operations team.
A Triton interior is built to last. They are beautifully hand-crafted using only the finest materials, and available with virtually limitless levels of customisation. Surfaces are comfortable and hardwearing, controls are tactile and durable.
Once you experience one, you'll understand why every client procuring their second, or indeed third, submersible, has chosen Triton.
RECOMMENDED LEISURE MODELS
Triton's most popular submersibles for leisure achieve an intoxicating balance of power and performance with ease of integration, operation and maintenance. These submersibles are typically chosen by owners of 60+ foot superyachts and integrated into existing tender garages.
200 m 2 2,500 kg 6 hrs
Designed to comfortably accommodate two people, the TRITON 660/2 SPII is a compact and agile submersible. It is an excellent choice for anybody wishing to pilot their own submersible and explore the wonders of the ocean with a family member or friend.
The beauty of its uncomplicated exterior is matched only by the luxuriousness of its hand-crafted interior. The smooth, elegant lines that define the form, provide a visual elegance while increasing hydrodynamic efficiency and maneuverability. It is a design that belies a potent performance. The TRITON SPII boasts twice the power, and improved maneuverability, than that of its predecessor.
It is a design tailored specifically for integration with existing superyacht tender garages and modest 3,000 kg cranes and davits.
The TRITON SPII is the ultimate two-person superyacht sub. It is the latest in a model lineage with a proven track-record of continued use and enviable achievement.
TRITON 1650/3
LOW PROFILE
500 m 3 4,000 kg 12 hrs
Designed for super yacht use, the TRITON 1650/3 Low Profile is the world's lightest and most compact three-passenger submersible in production today.
At only 5.9 ft (1.8 m) with a modest crane weight of only 8,800 lb (4,000 kg), this model is ideal for most sueryacht tender garages. The single lift-point allows it to be launched using existing tender cranes, further facilitating integration onboard a superyacht.
The revolutionary arrangement of the interior provides staggering, uninterrupted views for the passengers from inside the submersible, including straight-up and straight-down.
LARGER LEISURE MODELS
Owners of Megayachts, Gigayachts or one of the new breed of Expedition/Explorer yachts may also like to consider the following models. Each has been designed to take advantage of the additional capabilities of the host platform to provide increased diving depth, greater interior comfort and space, or additional capacity for larger families and groups.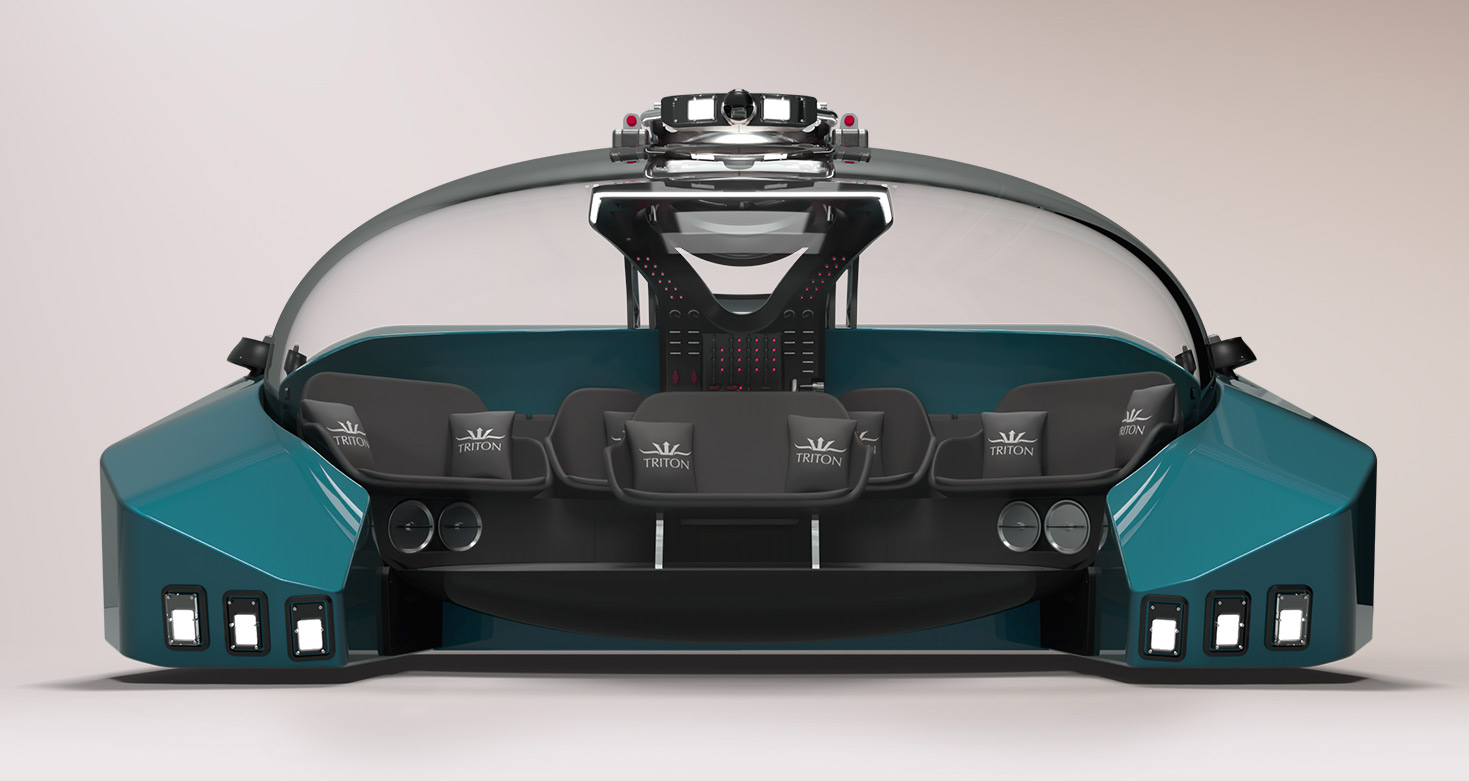 200 m 7-9 11,000 kg 12 hrs
Up to nine adults, or seven adults and four children, can enjoy dives to spectacular reefs and wrecks in the TRITON 660/9 AVA. It dives to depths of 660 feet, has a relatively small footprint for its capacity and has an interior three times larger than any other submersible of its size.
Typically enjoyed by Cruise and Commercial Operators, Triton can configure your TRITON 660 AVA to comfortably accommodate you and your family before integrating with your megayacht.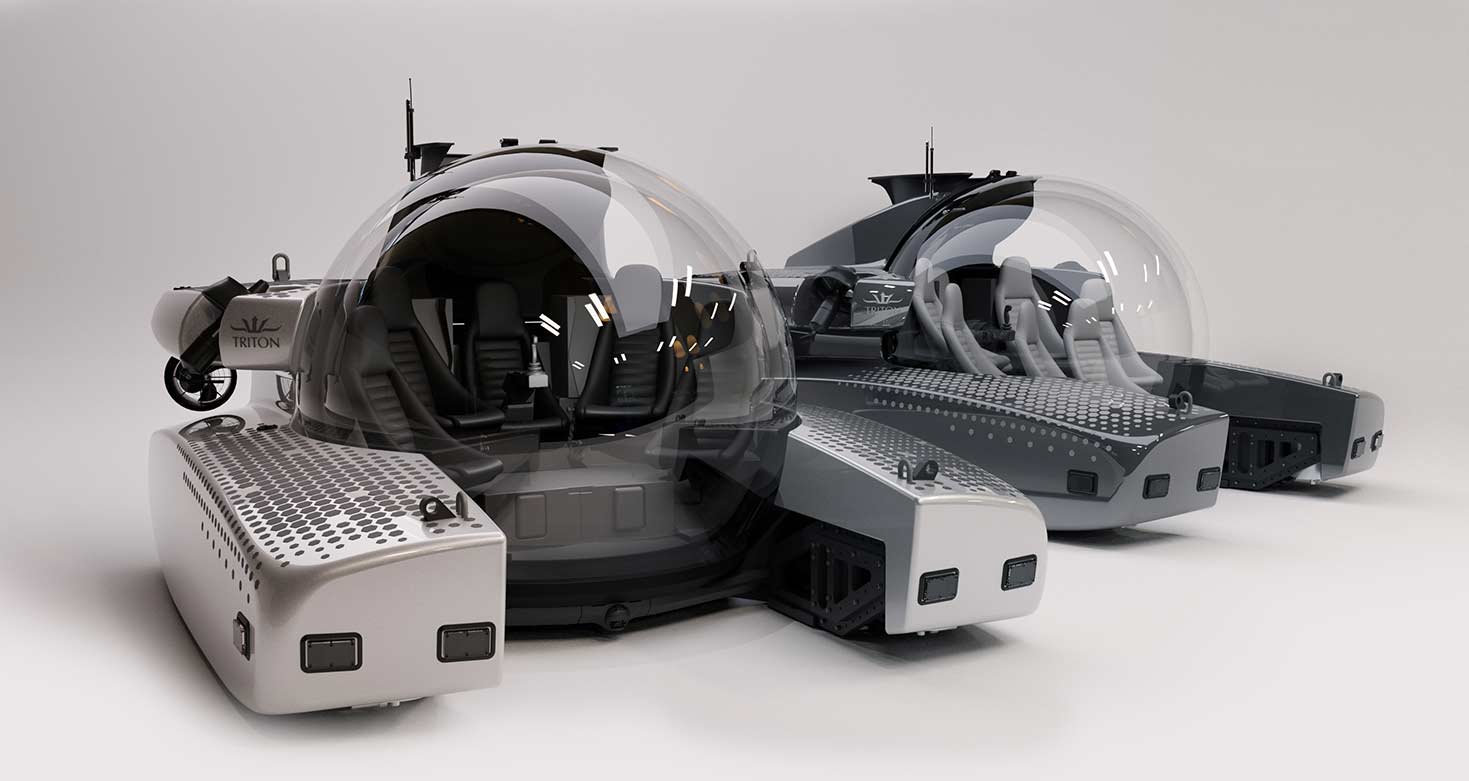 Triton 1650/7
Configurable
500 m 5-7 11,000 kg 10 hrs
For those that wish to dive deeper, the TRITON 1650/7 Configurable may be the perfect option. Its interior can be configured with five or seven seats, making it perfect for family adventures.
The TRITON 1650/7 was primarily designed for Commercial Tour Operators and is an extremely reliable platform for a family leisure submersible.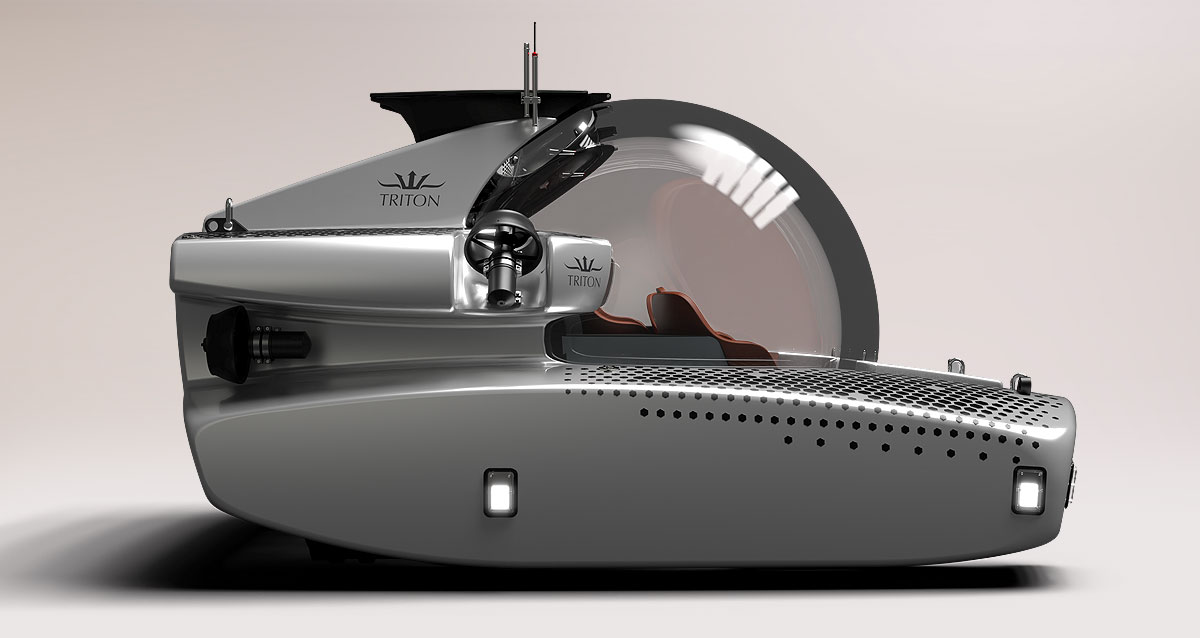 Triton 3300/6
1,000 m 4-6 11,000 kg 10+ hrs
For those that wish to dive deeper still, the TRITON 3300/6 could be the perfect choice. Its interior volume of 5,140 litres is 78% larger than the Triton flagship submersible – the TRITON 3300/3 – on which this model is based.
Capable of taking six passengers to depths of 1,000 meters, it provides an exceptional platform from which to enjoy uninterrupted views of the deep ocean. For the ultimate luxury experience, it can be easily reconfigured to seat four.
200 m 6 10,000 kg 10 hrs
A milestone in high-performance luxury craft, Project Hercules offers a completely different user experience for guests.The use of our patent-pending AVA pressure hull allows for multiple seating configurations and the privacy, amenities, comfort and luxury usually experienced in a private jet.
Capable of diving to 200m and traveling at speeds up to 8 knots, Project Hercules owners and their guests can enjoy designer lounge seating and mini bar while gliding amidst a school of magnificent sharks.
The first-of-its-kind model is the product of a unique collaboration between Triton Submarines and Espen Øino Internarional, designers of the world's most bespoke yachts and Dark Ocean Design, the world's leading submersible engineering and design studio. 
YACHT INTEGRATION
Triton has significant experience integrating its submersibles on a wide range of platforms, from relatively small expedition support vessels to large, open-decked offshore support ships, through land-based operations in the tourism submersible sector.
Triton works closely with its clients to understand the specific characteristics, constraints and safety hazards involved in launch, recovery and the stowage environment, and will ensure that they are afforded all the assistance required in order to design a safe, efficient and effective storage, operation and maintenance area for the submersible.
Triton's engineers will work collaboratively with yacht builders (for new builds) and the engineering team (for existing vessels) to establish the full requirements for efficient and seamless integration of a Triton submersible with a yacht.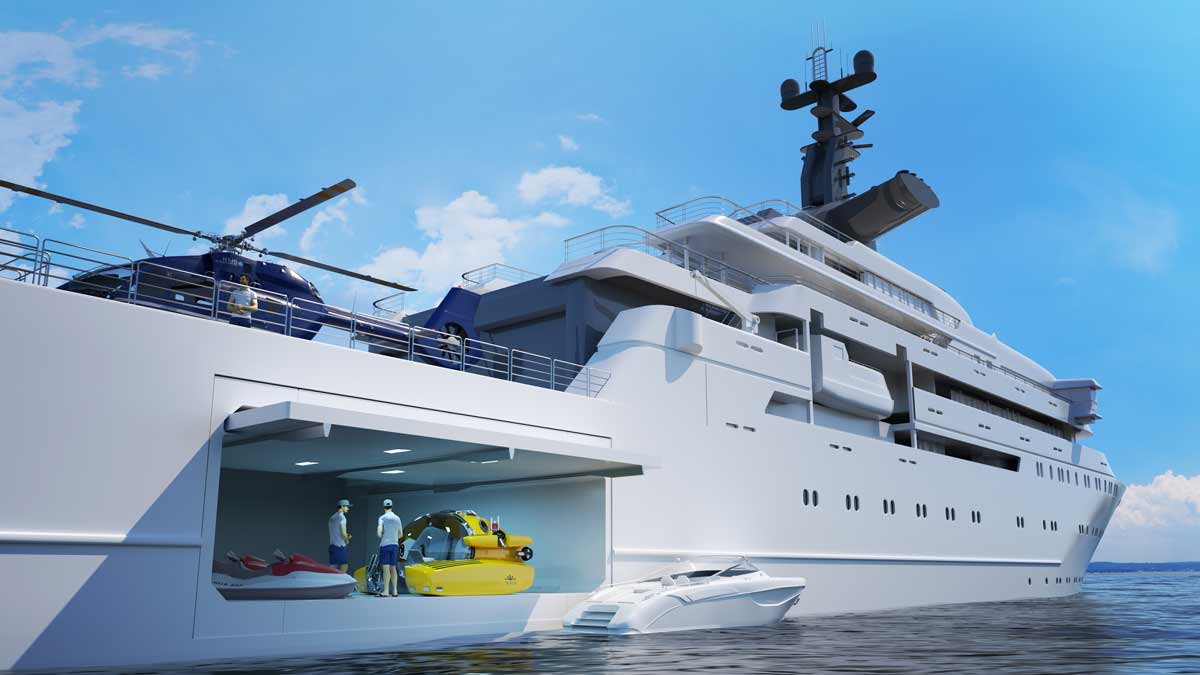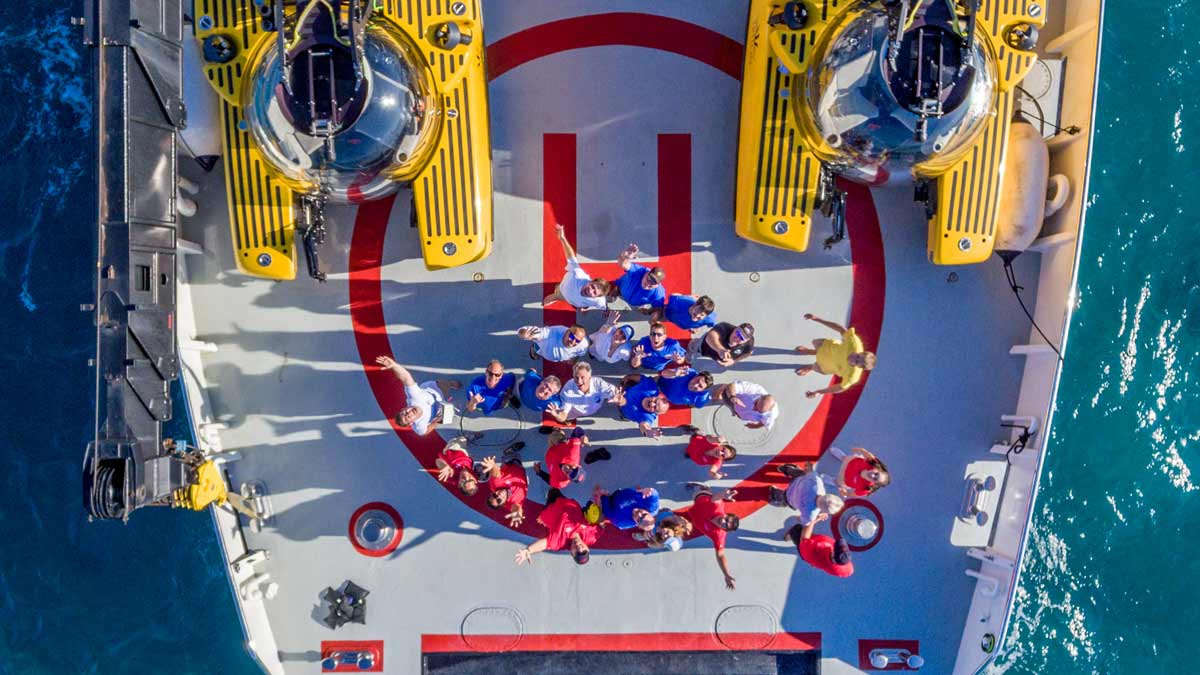 GLOBAL SUPPORT
At Triton, we endeavor to build our clients the very best submersibles we possibly can, and work hard to ensure Triton owners remain as satisfied today as they were on the day of their first dive.
We provide all owners with truly world-class after-sales support, provided by the most knowledgeable team of submersible experts to be found anywhere on the planet. Our Headquarters in Florida and our dedicated Submersible Super-Centre in Barcelona ensure timely access to parts and expertise when required.
For these, and many other reasons, Triton enjoys the highest levels of customer loyalty in the industry.