TRITON 1650/7
Configurable
Five-to-seven seat configurability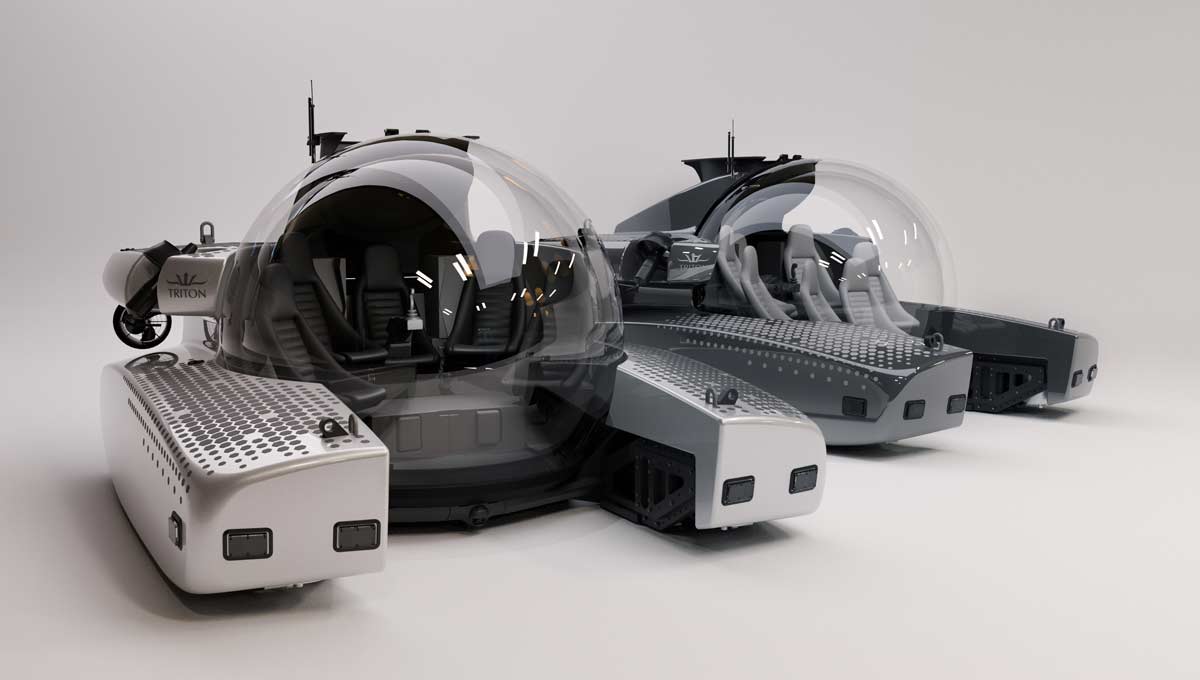 The TRITON 1650/7 Configurable submersible has been designed specifically with increased passenger comfort and capacity in mind. It allows cruise lines and tour operators to offer exclusive, intimate submersible dives to large families and small groups
Accommodating up to seven passengers on dives to 1,640 ft / 500 m, the flexible seating arrangements can quickly be re-configured from seven-seat to five-seat layout as and when required. This flexibility allows for rotation of itineraries or curation of different experiences throughout a voyage.
SEVEN SEAT LUXURY or FIVE SEAT EXCLUSIVITY
The TRITON 1650/7 Configurable features the world's largest spherical acrylic hull, exclusive to Triton Submarines.
In seven-seat mode, the submersible is ideally suited to high-end experiential travel companies offering submersible tours as either an integral part of, or an additional activity to, itineraries in exclusive or remote locations. Six guests can enjoy viewing penguins the icy waters of Antartica or the majesty of a thriving reef.
For an even more luxuriously appointed interior, the interior may be fitted with just five seats, offering a level of personal space simply unheard of in this class of submersible. In five-seat mode, companies can offer an exclusive, luxurious experience dedicated to a single family. With the additional space, it is the most luxurious way to spend several hours beneath the waves exploring everything from historic wrecks to newly built manmade diving parks.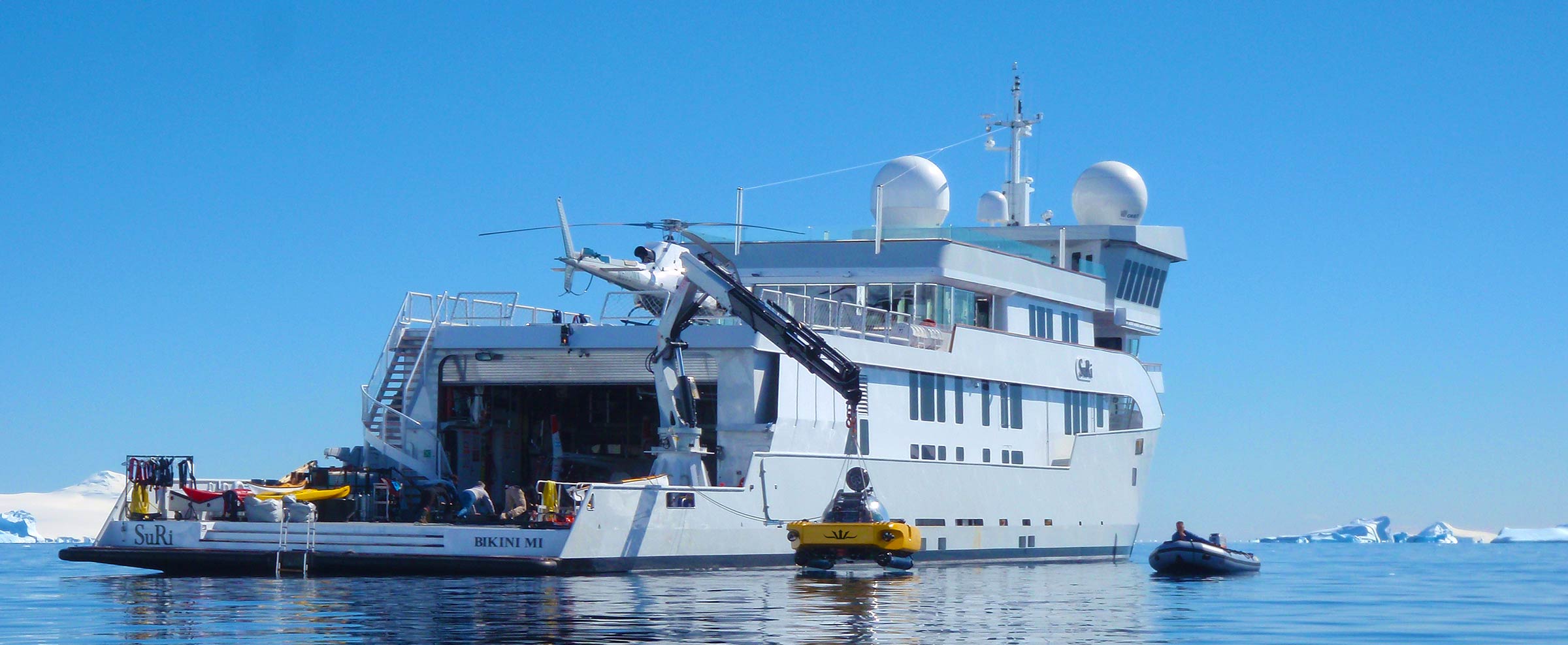 A BETTER CUSTOMER EXPERIENCE
From ingress to egress, customers will have a better experience in a Triton ultra-large, single-hull submersible. They are easier to enter, easier to move around in and boast a much more luxurious living space than previous-generation dual-hulled submersibles of similar capacities.
During the dive, the Pilot Guide sits among the group providing a personal and curated tour that all will enjoy equally. Families and friends sit with one-another on large, comfortable seats. Through optically-perfect acrylic all guests will share the same unimpeded view and enjoy a once-in-a-lifetime experience that is as spectacular as it is serene.
Our unique ability to produce large hulls means we can provide a completely uncompromised experience for all.
"Some things just need to be experienced to be believed. There aren't words good enough"
Oliver Steeds, Nekton Foundation, following his dive in a Triton submersible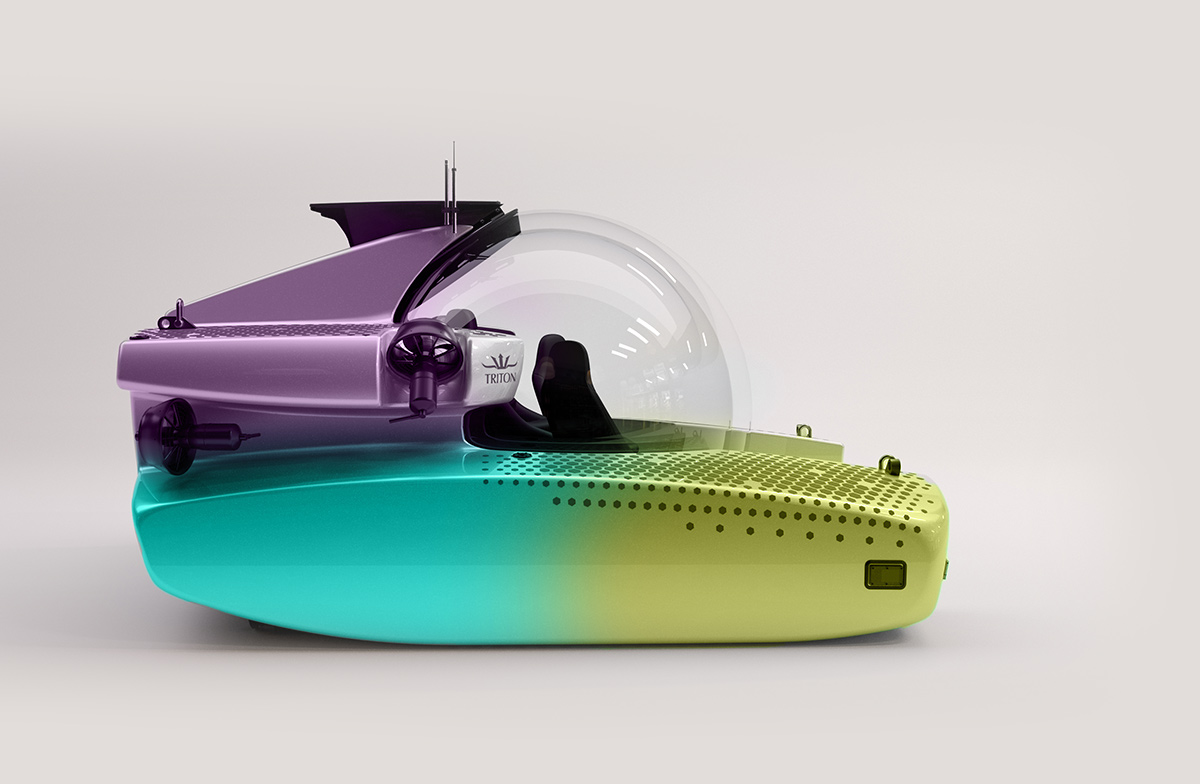 Every Triton is completely customizable; from exterior paintwork to interior detailing.
Take advantage of the opportunity to compliment your brand, vessel livery or make a statement.
Guests will appreciate a submersible from a manufacturer they recognize and enjoy a natural extension of your brand.
General
| | |
| --- | --- |
| Depth | 1,650 ft / 500 m |
| Payload | 2,200 lb / 1,000 kg |
| Crew | Pilot + up to 6 Pax |
| Speed | 3 kn |
| Endurance | 10 hours |
| Main Ballast | 6,600 lb / 3,000 kg |
| Variable Ballast | 880 lb / 400 kg |
Size & Weight
| | |
| --- | --- |
| Length | 14.9 ft / 4.55 m |
| Width | 11.8 ft / 3.6 m |
| Height | 7.9 ft / 2.4 m |
| Weight | 24,300 lb / 11,000 kg |
| Pressure Hull Inner ⌀ | 90.5 in / 2,300 mm |
| Pressure Hull Volume | 6,340 l |
| Hatch Inner ⌀ | 27.5 in / 700 mm |
Systems
| | |
| --- | --- |
| 24 V Supply | Dual supply + Emergency |
| Main Battery | 57 kWh |
| Main Thrusters | 2 x 12 kW |
| Vertran Thrusters | 2 x 12 kW |
| Control | Joystick, Touchscreen & Manual Override |
| External Lights | 6 x 20,000 lumen LED |
| Life Support | Oxygen + CO2 Scrubber |