TRITON 1650/3
LOW PROFILE
The world's smallest, lightest three-person superyacht submersible

The TRITON 1650/3 LP is the world's lightest, most compact, three-passenger production submersible. Featuring a single lift-point and a footprint similar to a pair of jet skis, it is ideal for deployment from a superyacht.
From its comfortable, spacious cabin, a pilot and two passengers can spend an entire day enjoying nearly 360 ̊ views of the subsea world at depths up to 1,640 feet / 500 meters.
The TRITON 1650/3 LP combines the sleek yet practical design of our Superyacht series with the mission flexibility of our Professional models. Intrepid owners may choose to add specialist tooling, manipulators or external cameras to enhance the capabilities of their sub.
Others may wish to focus on aesthetics and take advantage of Triton's customisation program and the ability to tailor the 1650/3 LP to their particular tastes.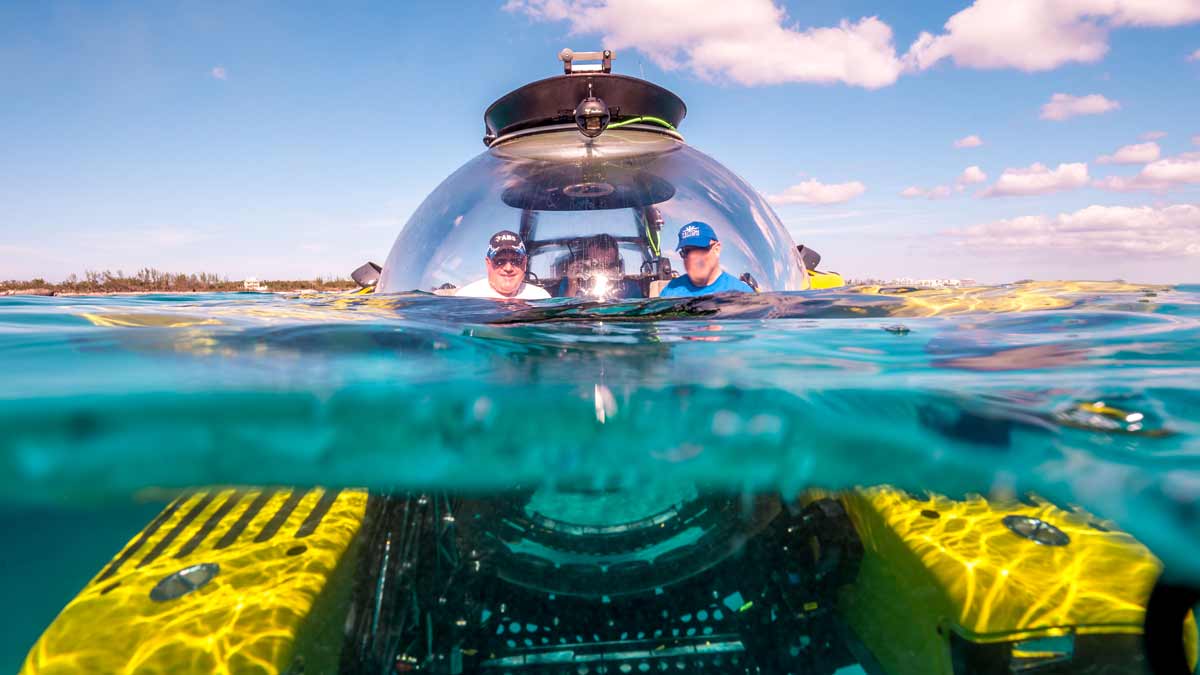 The Best Experience
All Triton submersibles feature our premium-grade acrylic hulls. Unlike yellow-tinged budget options, Triton hulls are completely colourless, crystal clear, distortion-free and feature the same refractive index as water – meaning they seemingly disappear from view when wet. You'll believe you could reach out and touch the fabulous subsea world around you.
Once you experience it for yourself, you'll understand why Triton acrylic is the number one choice for productions like Blue Planet II and David Attenborough's Great Barrier Reef.
The clearest, widest views are from a Triton.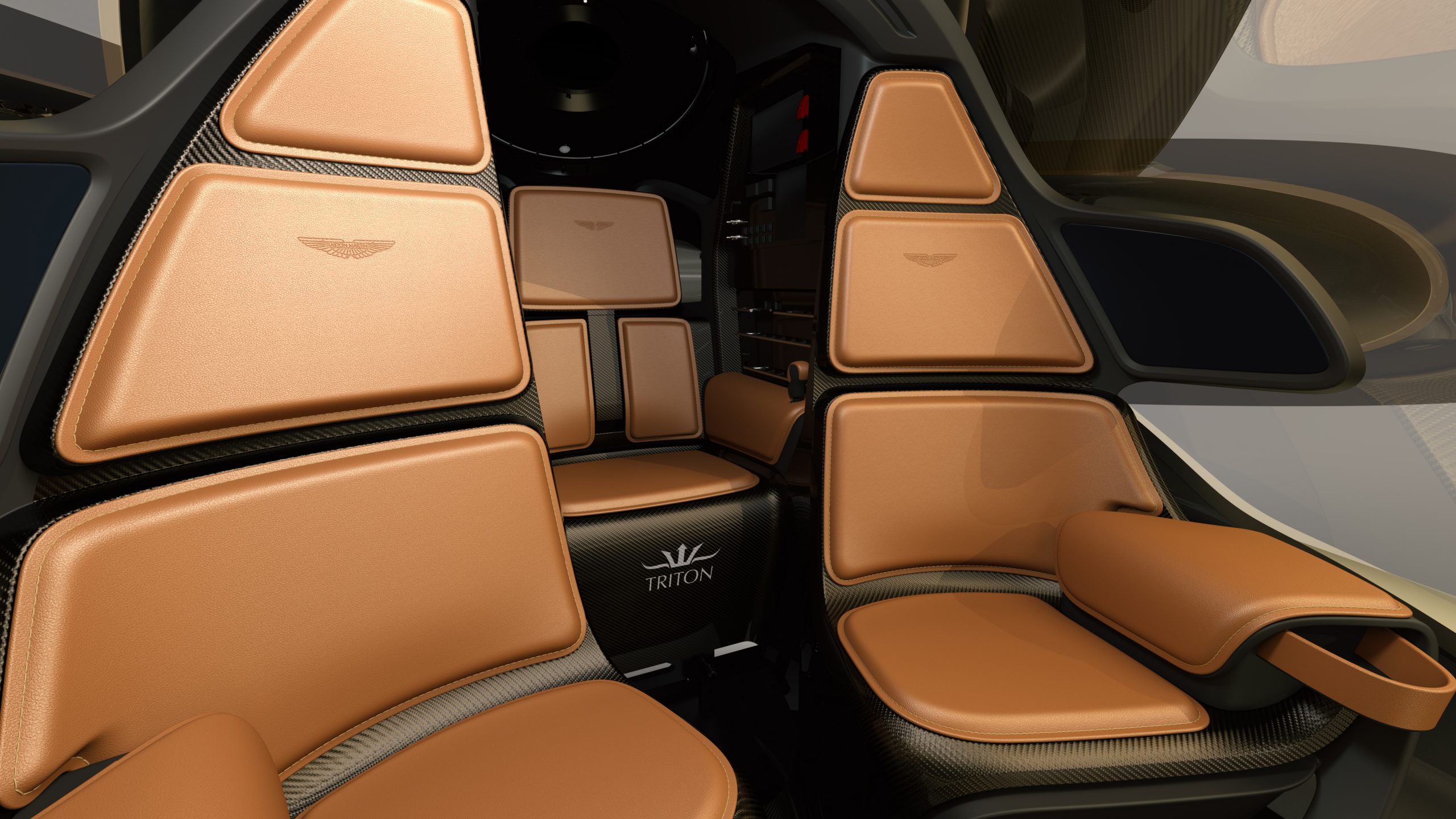 The Finest Interior
The TRITON 1650/3 LP may be small, but its spacious interior belies it's compact size. Our obsession with ergonomics and efficient packaging means that there is room for three to relax and enjoy the wonders of the deep. Your comfort is guaranteed in a Triton – no knees pressed against glass here.
Our interiors are luxuriously trimmed in the finest materials, hand-crafted for a sumptuous finish. Thoughtful inclusions like wonderfully supportive seats, integrated drinks holders, clever storage and high-end surround-sound audio combine for a cinematic dive experience.
There is no finer way to spend hours beneath the waves than in a Triton submersible.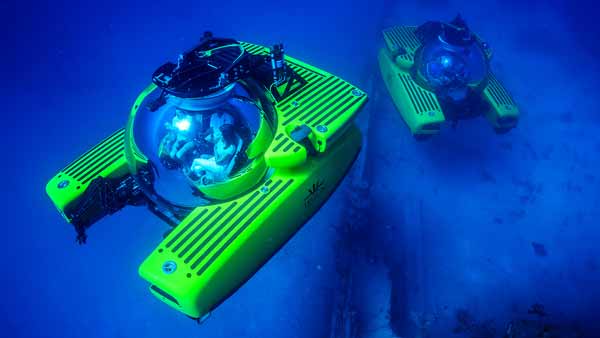 Reliability like no other
The TRITON 1650/3 LP was designed and engineered by the only team in the world to have built submersibles reliable enough to dive to Full Ocean Depth.
We have taken what we learned about reliability and dependability at extreme depths, and applied that knowledge across our entire range. Triton owners benefit from the reassurance that their submersibles are engineered like no other.
Quite simply, you'll spend more time diving and less time maintaining a Triton submersible.
Sunlit Shallows to Darkened Depths
The TRITON 1650/3 LP lets you dive from sunny reef to darkest deep
The TRITON 1650/3 LP can dive to depths of 1,640 feet (500 meters), opening up previously unexplored parts of our ocean for exploration.
Starting in the relative shallows, the TRITON 1650/3 LP is a capable and comfortable submersible for exploring reefs and wrecks. Pilot Owners can share the experience with two family members or friends. The beautiful Exumas in the Bahamas or the Barrier Reef in Belize – a UNESCO Heritage site – are the perfect Caribbean destinations for this kind of shared experience.
At 1,640 ft, you will be venturing where few, if any, have been before. Powerful LEDs bring light to a part of the world unseen by mankind. Immerse yourself, and your passengers in the fascinating nocturnal lives of rare invertebrates, majestic rays and species the world is yet to discover. Try the oceanographically interesting Strait of Sicily or waters around Malta for this kind of adventure in the Mediterranean.
The World of Triton Submarines
Triton owners have enjoyed diving in locations as diverse as Galpogos, The Bahamas, Antartica, The Great Barrier Reef, and many, many more.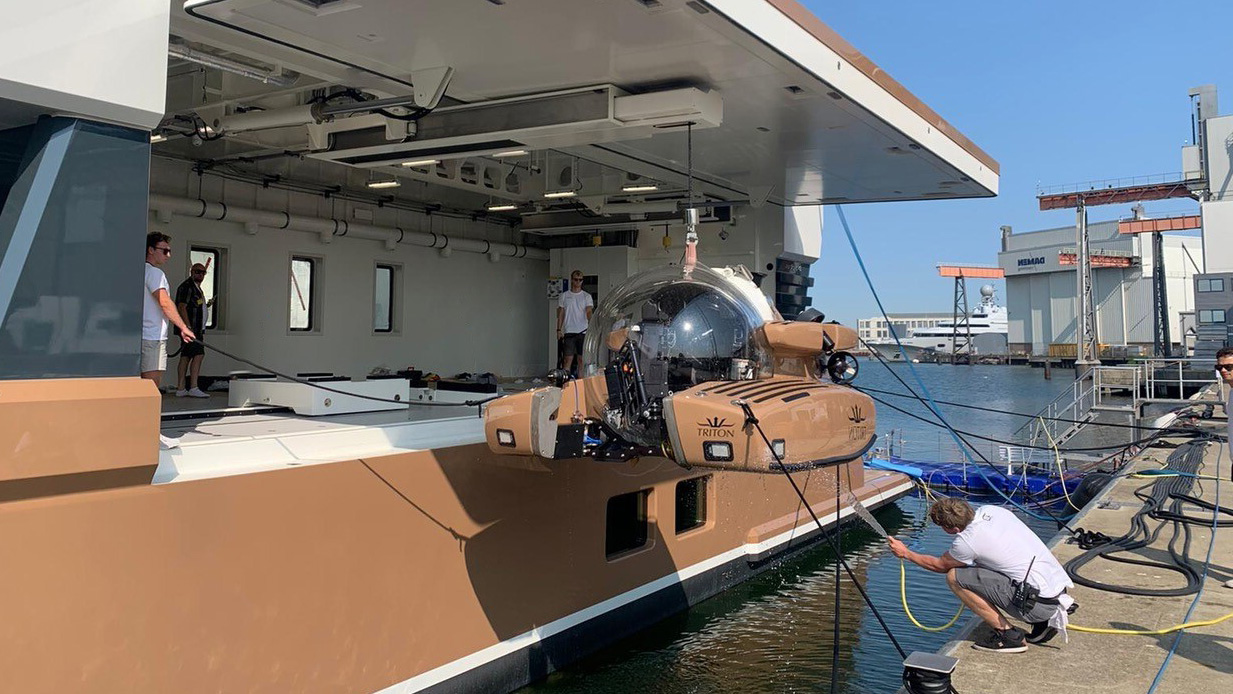 As the world's smallest and lightest three-person submersibles, integrating a TRITON 1650/3 LP with an existing or New Build yacht is straightforward. We will work with your engineers or shipyard to determine a suitable space and location onboard, and ensure lifting and handling arrangements are suitable.
Rest assured, Triton has vast experience integrating our subs with many kinds of vessel and different launch and recovery systems. We'll make integrating a Triton submersible is as easy as accommodating a pair of jet skis.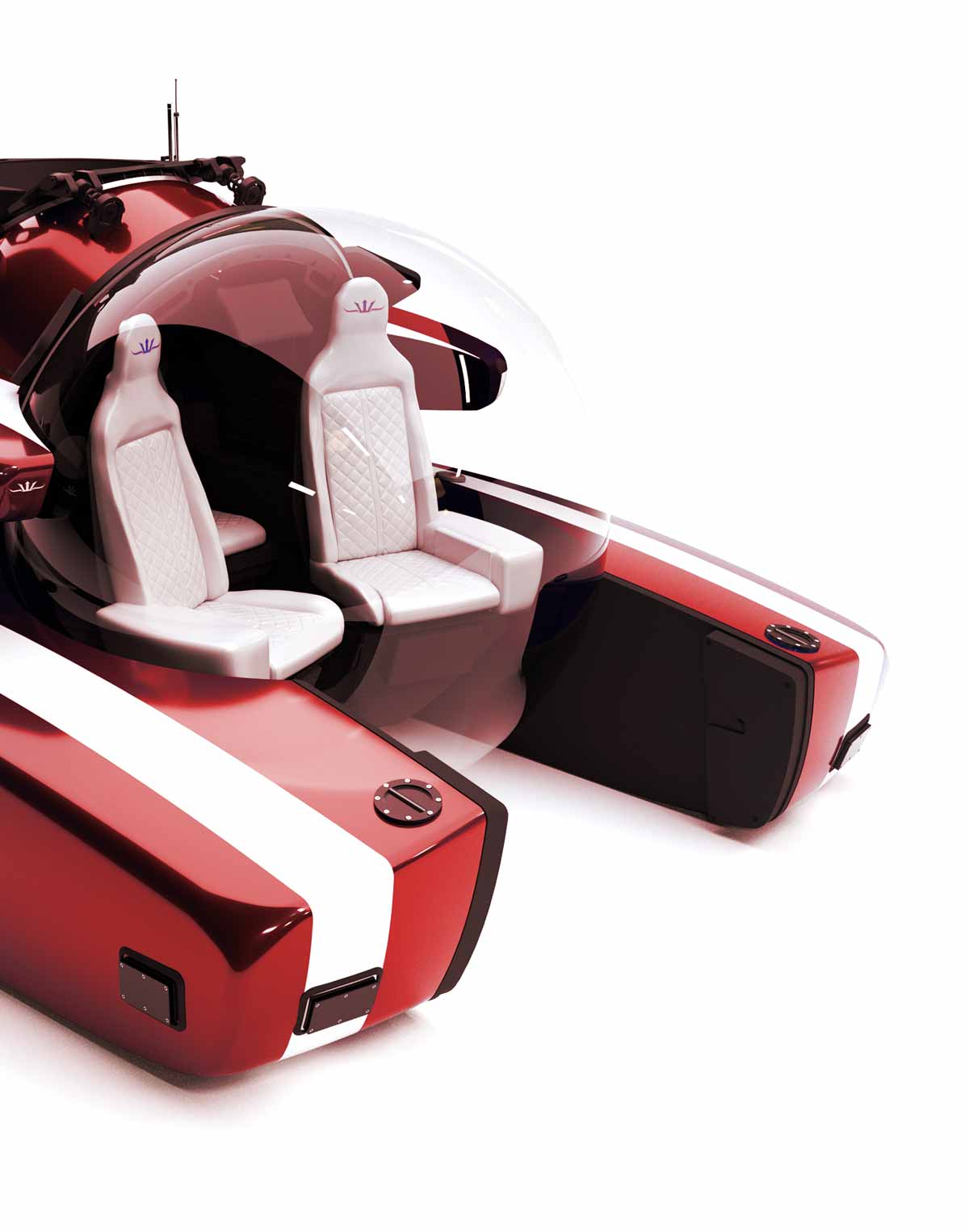 PersonaliZation
Triton submersibles are infinitely customizable. The vast majority of submersibles delivered by Triton to date have benefited from some degree of personalisation.
Some owners wish for a cohesive aesthetic across their yacht, tender and other toys. Others seek to make a very personal design statement with personalised graphics and interiors.
From the use of bespoke materials to an individually-designed livery, Triton invites you to exercise your imagination and create something truly unique.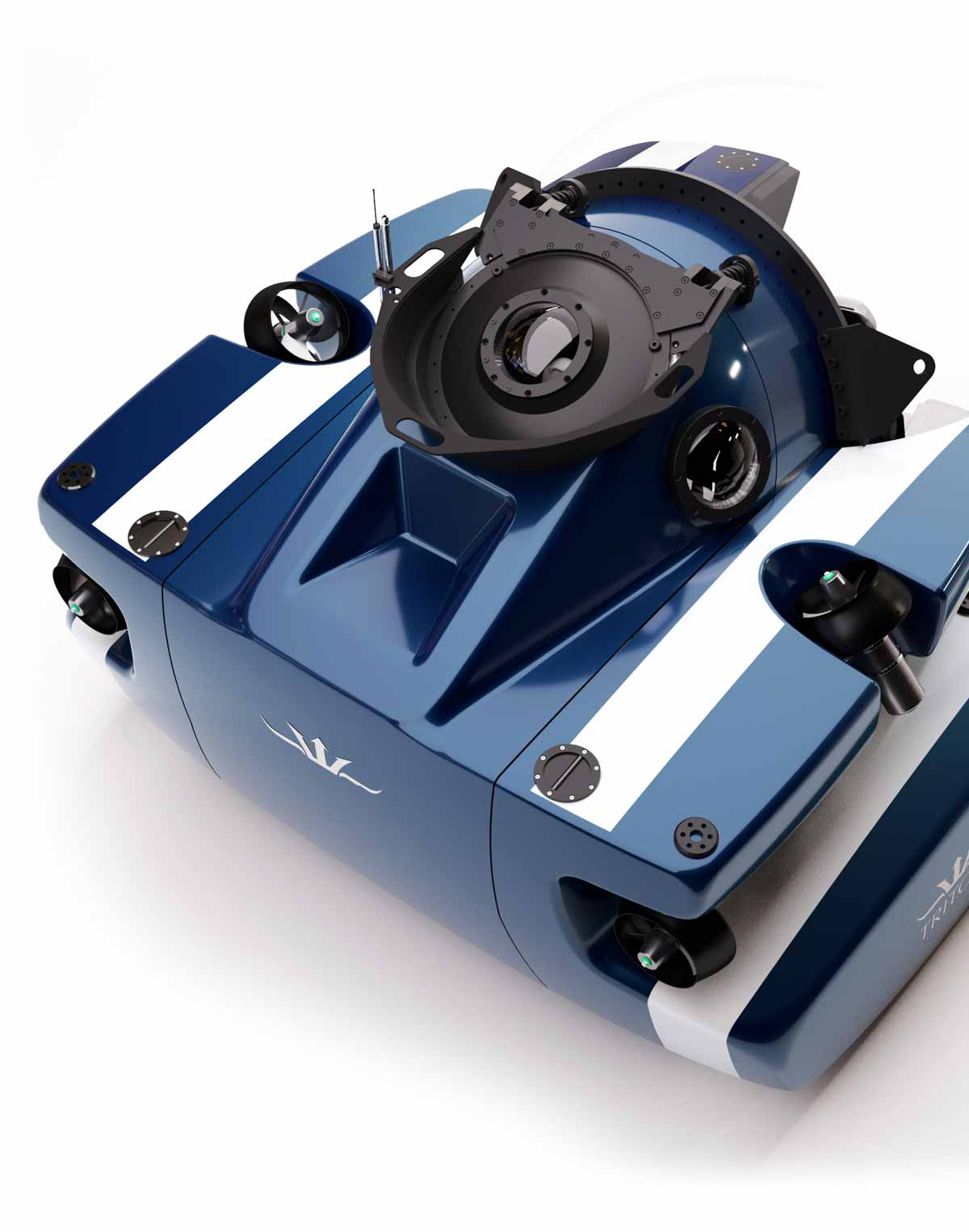 General
| | |
| --- | --- |
| Depth | 1,640 ft / 500 m |
| Payload | 1,210 lb / 550 kg |
| Crew | Pilot + 2 Pax |
| Speed | 3 kn |
| Endurance | 12 hours |
| Main Ballast | 4,840 lb / 2,200 kg |
| Variable Ballast | 220 lb / 100 kg |
Size & Weight
| | |
| --- | --- |
| Length | 10.5 ft / 3.2 m |
| Width | 8.7 ft / 2.6 m |
| Height | 5.9 ft / 1.8 m |
| Weight | 8,800 lb / 4,000 kg |
| Pressure Hull Inner ⌀ | 60 in / 1,525 mm |
| Pressure Hull Volume | 2,177 l |
| Hatch Inner ⌀ | 23.6 in / 600 mm |
Systems
| | |
| --- | --- |
| 24 V Supply | Dual supply + Emergency |
| Main Battery | 30 kWh |
| Main Thrusters | 2 x 5.5 kW |
| Vertran Thrusters | 2 x 5.5 kW |
| Control | Joystick, Touchscreen & Manual Override |
| External Lights | 6 x 20,000 lumen LED |
| Life Support | Oxygen + CO2 Scrubber |